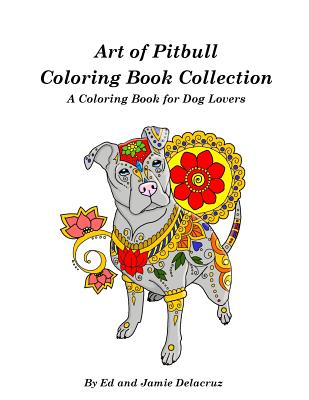 Art of Pitbull Coloring Book Collection - A Coloring Book for Dog Lovers
Paperback

* Individual store prices may vary.
Description
Art of Pitbull Coloring Book Collection - A Coloring Book for Dog Lovers. A beautiful collection of pitbull illustrations printed singled sided and ready to color. Featuring artwork by Ed Delacruz inspired by Henna, Mandala, Zentangles, Art Nouveau, Asian and Egyptian art.
Createspace Independent Publishing Platform, 9781537598598, 50pp.
Publication Date: September 10, 2016
About the Author
Ed Delacruz is an artist with a deep and passionate appreciation for beauty in the natural and spiritual world. This enthusiastic and sensitive joy is reflected in his artwork as he incorporates abstract elements and brushwork, resulting in a emotional connection to the subjects he paints. As a young man while in the US Army, Ed traveled around the World absorbing views and cultures, taking it all in. Not able to capture the moments or emotions, but always keeping his childhood passion for painting and drawing close to his heart. Taking an art class here and drawing class there while going to college, seemed to feed his inner passion. With a degree in Information Technology, Ed now works for a research laboratory in rolling hills of Bucks County, PA, where he has been able to take his natural artistic ability and passion for learn and combine them in artistic scientific representations, website design and marketing materials. But that passion for painting never left, and Ed began painting special miniature pieces and selling them on the Internet all over the World. Being an avid animal lover, Ed has also begun painting commissioned portraits of other animal lovers. Sometimes claiming that his four dachshunds - Sophie, Lulu, Coco and Sandy are his Muses. Ed's work hangs in private collections- both at home and abroad as far as South Africa, Russia and Austrailia. Ed has also published a very popular series of adult coloring books featuring dachshunds, yorkies, pugs, pitbulls and chihuahuas. Ed is currently living in Quakertown, Pennsylvania where he works out of his home.