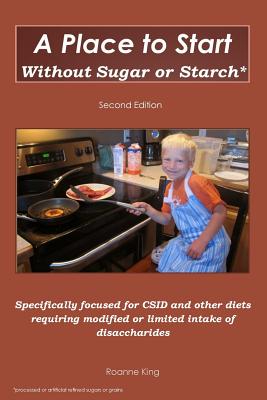 A Place to Start Without Sugar or Starch
Second Edition
Paperback

* Individual store prices may vary.
Description
Focused specifically for managing the CSID diet, a mother of five describes her decade-long journey of discovery in feeding her family. This guide includes causes, symptoms, and solutions for managing food intolerance, suggested supplements, food lists, menus, recipes and more. Also helpful for other diets that require modifying or limited disaccharides.
Createspace Independent Publishing Platform, 9781537661056, 202pp.
Publication Date: September 30, 2016
About the Author
Roanne King is a mother of five and first-time grandmother. Her youngest son was diagnosed with CSID in 2005, followed by her oldest daughter in 2008. Her oldest son was diagnosed with Celiac in 2016. She's suffered from her own digestive issues and fibromyalgia. When she reduces potentially harmful foods and environmental factors while supporting spiritual, mental, and physical wellness, she finds that both she and her family thrive. Roanne's writing experience includes website editing, freelance articles, and the publication of a historical fiction series. She lives in Southern Idaho with her husband and three youngest children.