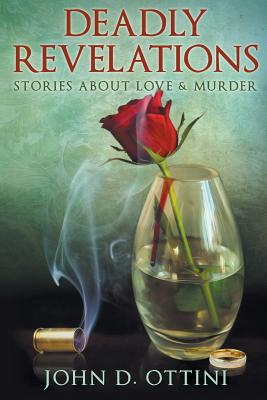 Deadly Revelations
Stories about Love & Murder
Paperback

* Individual store prices may vary.
Description
Love makes the world go round. But it can also turn spouses into enemies, saints into sinners, and passion into murder. In Deadly Revelations, John D. Ottini crafts five suspenseful stories about troubled relationships, the frayed bonds of trust, and the lengths people are willing to go to in order to preserve the one thing they hold dear. In "Remorse", Bradley discovers his wife Sara may be cheating on him. Discovering the truth leads him on a dark and dangerous path that may lead to an unimaginable point of no return. "Loves Me Not" is the small-town story of Jonathan and Grace, two married New York City ex-pats, and Grace's disturbing realization: did the man that she loves murder the town's innocent librarian? In "Words to a Kill", Lucy's erratic post-accident behavior troubles her husband Sonny. When his brother Marco makes an unorthodox suggestion to help Lucy, can Sonny simply stand by and handle the disturbing result? "Beneath the Roses" tells the story of Gwen, whose grief over her dying mother is interrupted by the woman's startling deathbed secret. Gwen must deal with more than her mother's death as she realizes that some secrets can reverberate beyond the grave. And in "A Fool and His Money", impoverished Thomas mysteriously has his fortunes reversed, including the reappearance of an old flame. When she reveals the dark secrets in her past, will Thomas have to resort to murder to protect the woman he loves? Deadly Revelations reveals these characters' gripping tales of jealousy, heartbreak, revenge, and honor. When everything they cherish is on the line, will love triumph above everything else, or will that same powerful force prove to be their downfall?
Createspace Independent Publishing Platform, 9781537768892, 224pp.
Publication Date: October 31, 2016
About the Author
John D. Ottini resides in central Florida with his wife and a mischievous black and white tabby named Bella.
or
Not Currently Available for Direct Purchase