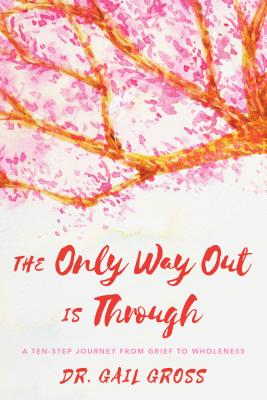 The Only Way Out Is Through
A Ten-Step Journey from Grief to Wholeness
Hardcover

* Individual store prices may vary.
Other Editions of This Title:
Paperback (10/18/2019)
Description
Books on grief often fall into two categories: memoir or science. In The Only Way Out is Through, Dr. Gail Gross combines the two in an inspiring story of loss alongside the analytical psychology that helped her find her own re-entry into life. The Only Way Out is Through tells the story of a mother's sudden loss of a child and the impact on the family as a whole. It offers a comprehensive approach to healing for the bereaved and helps them reenter life on new terms. The Only Way Out is Through is not only a book about grieving, but a guide to successfully navigating transitions--the endings and beginnings of life. Dr. Gail helps readers learn to listen to their own inner voices, the deepest part of the unconscious, so that reorienting and reshaping the future seems possible. Offering strategies for dealing not just with profound grief, but with living beyond a devastating loss, she provides a map for those looking for guidance, comfort, care, and hope.
Rowman & Littlefield Publishers, 9781538106952, 208pp.
Publication Date: January 26, 2018
About the Author
Gail Gross, PhD, EdD, MEd, is a nationally recognized family and child development expert, author and lecturer. Her positive and integrative approach to difficult issues helps families navigate today's complex problems. Dr. Gross is frequently called upon by national and regional media to offer her insight on topics involving family relationships, education, behavior, and development issues. Dr. Gross has contributed to broadcast, print and online media including CNN, the Today Show, FOX's The O'Reilly Factor, MSNBC, The New York Times and USA Today. She is a veteran radio talk show host as well as the host of the nationally syndicated PBS program, "Let's Talk." Dr. Gross is a longtime leader in finding solutions to the nation's toughest education challenges. She co-founded the first-of-its kind Cuney Home School with her husband Jenard, in partnership with Texas Southern University, in 1996. The school serves as a national model for improving the academic performance of students from housing projects by engaging the parents. Additionally, she recently completed leading a landmark, yearlong study in the Houston Independent School District to examine how stress-reduction affects academics, attendance, and bullying in elementary school students, and a second study on stress and its effects on learning. Such work has earned her accolades from distinguished leaders such as the Dalai Lama, who presented her with the first Spirit of Freedom award in 1998. Most recently, she received the Good Heart Humanitarian Award from Jewish Women International.
or
Not Currently Available for Direct Purchase