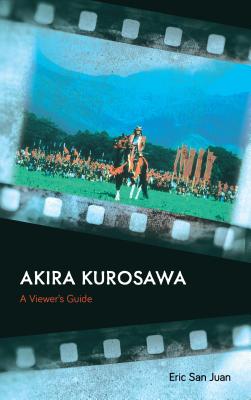 Akira Kurosawa (Hardcover)
Rowman & Littlefield Publishers, 9781538110898, 260pp.
Publication Date: December 3, 2018
* Individual store prices may vary.
Description
The career of acclaimed filmmaker Akira Kurosawa spanned more than five decades, during which he directed more than thirty movies, many of them indisputable classics: Rashomon, Ikiru, Seven Samurai, The Hidden Fortress, Throne of Blood, and Yojimbo, among others. During the height of his creative output, Kurosawa became one of the most influential and well-known directors in the world, inspiring filmmakers like Steven Spielberg and George Lucas and movies such as The Magnificent Seven; The Good, the Bad, and the Ugly; and Star Wars. In Akira Kurosawa: A Viewer's Guide, Eric San Juan provides a comprehensive yet accessible examination of the artist's entire cinematic endeavors. From early films of the 1940s such as Sanshiro Sugata and No Regrets for Our Youth to Oscar winner Dersu Uzala--the author helps readers understand what makes Kurosawa's work so powerful. Each discussion includes a brief synopsis of the film, an engaging analysis, and thoughtful insights into the film's significance. All of Kurosawa's works, from 1943 to 1993, are analyzed here, including the overlooked television documentary Song of the Horse, produced in 1970. In addition to more than twenty photos, Akira Kurosawa: A Viewer's Guide provides rich discussions that will appeal to students of cinema as well as anyone who wants to learn more about Japan's greatest director.
About the Author
Eric San Juan was the editor-in-chief for a family of weekly newspapers in New Jersey for more than a decade and was cohost of the Year of Hitchcock podcast. He is the author of Stuff Every Husband Should Know (2011) and the coauthor of A Year of Hitchcock: 52 Weeks with the Master of Suspense (Scarecrow, 2011) and Hitchcock's Villains: Murderers, Mothers, and Maniac Issues (Scarecrow, 2013).