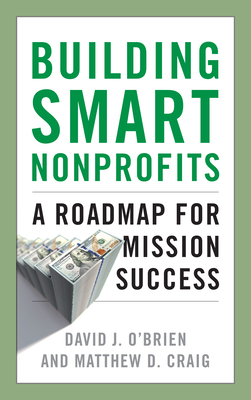 Building Smart Nonprofits
A Roadmap for Mission Success
Hardcover

* Individual store prices may vary.
Description
Best practices for nonprofits for long-term success in a rapidly changing world. Building Smart Nonprofits: A Roadmap for Mission Success is a handbook of best practices nonprofits can use to improve sustainability - a book of knowledge and know-how distilled from interviews with over 60 industry leaders who are in the nonprofit trenches every day-as executives, leaders, board members, funders, publishers, and service providers. David J. O'Brien and Matthew D. Craig provide real-life examples of nonprofits deploying best practices and emerging industry trends - such as the rise of socially conscious investing - to position their organizations for the long term. Topics include, among others, funding models, impact investing, compensation, strategic restructuring, leadership, full-cost grantmaking, program evaluation, storytelling, and financing. Readers learn how to best position their non-profit organization for a sustainable and long-term future.
Rowman & Littlefield Publishers, 9781538118238, 264pp.
Publication Date: August 15, 2020
About the Author
David J.O'Brien enjoyed a career in the for-profit sector over a span of 45 years, with broad based experience in multi-industry corporate development, finance, and management of organizations ranging from Fortune 500 conglomerates to startups. David has served as Board Chair, Committee Chairs, and Director/Trustee of numerous nonprofits in diverse fields including education, international health NGO's, social services, and the arts. He resides in rural San Diego county with his wife, Dr. Paula Cordeiro, and when not active in the nonprofit community, enjoys sailing Colibi, his 60 year sloop, cooking, oil painting, and accompanying Paula on her travels working with NGO's in Africa, & Central/South America. Matthew D. Craig is a Vice President and Senior Relationship Manager with JPMorgan Chase, where he specializes in providing a broad range of services to governments and nonprofit organizations. With over 20 years of experience in the financial sector, he has held positions in credit underwriting, commercial and small business banking, and private wealth management. Throughout his academic and professional careers, Matt has been an active volunteer and advocate for myriad social organizations. He is a philomath, teacher, traveler, and mediocre beach volleyball player. Matt currently lives in Escondido, CA with his wife Courtney and their twins, Kerrigan and Landry.