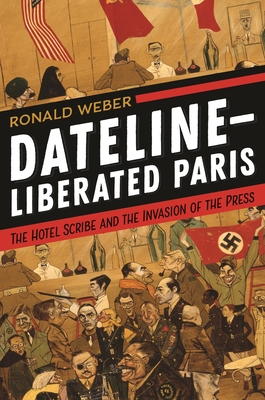 Dateline--Liberated Paris (Hardcover)
The Hotel Scribe and the Invasion of the Press
Rowman & Littlefield Publishers, 9781538118504, 232pp.
Publication Date: April 5, 2019
* Individual store prices may vary.
Description
Vividly capturing the heady times in the waning months of World War II, Ronald Weber follows the exploits of Allied reporters as they flooded into liberated Paris after four dark years of Nazi occupation. He traces the remarkable adventures of the men and women who lived, worked, and played in the legendary H tel Scribe, set in a highly fashionable part of the largely undamaged city. Press jeeps and trailers packed the street outside, while inside the hotel was completely booked with hundreds of correspondents. The busiest spot was the dining area, where the clatter of typewriters combined with shouts of correspondents needing hot water to brew coffee from military powder. But the basement-level bar was the hotel's top attraction, where famed war correspondents like Ernie Pyle, Walter Cronkite, A. J. Liebling, Ernest Hemingway, Martha Gellhorn, Janet Flanner, Lee Miller, Marguerite Higgins, Irwin Shaw, Edward Kennedy, Charles Collingwood, Robert Capa, and many others held court while in the company of military censors and top brass. Weber uncovers the struggles between correspondents and Allied officials over censorship and the release of information, the heated press chaos surrounding the war's end, and the drama of the second German surrender orchestrated by the Russians in shattered Berlin. The elation of total victory was mixed with the abrupt emptiness of a task finished. While work on the Continent remained for journalists, it now dealt with the slog of the occupation of Germany rather than the blood and glory of war. Yet Weber shows there were many reasons to carry on after VE Day in this delightfully entertaining account of the hotel where correspondents were regularly briefed on the war and its aftermath, wrote their stories, had them transmitted to international media outlets, and rarely neglected the pleasures of a Paris reborn until December 1, 1945, when the H tel Scribe was officially vacated by the American military.
About the Author
Ronald Weber is professor emeritus of American Studies at the University of Notre Dame. His books include The Lisbon Route, Hired Pens, Hemingway's Art of Nonfiction, The Literature of Fact, and News of Paris: American Journalists in the City of Light Between the Wars, which sets the stage for Dateline--Liberated Paris. He has held research fellowships from the National Endowment for the Humanities and the Freedom Forum for Media Studies at Columbia University and has been a Fulbright lecturer in Europe. He lives in Valparaiso, Indiana.