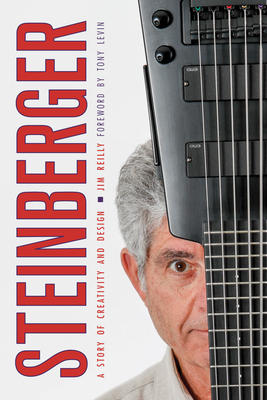 Steinberger (Paperback)
A Story of Creativity and Design
Rowman & Littlefield Publishers, 9781538136881, 272pp.
Publication Date: April 15, 2020
* Individual store prices may vary.
Description
Steinberger: A Story of Creativity and Design tells the story of musical instrument designer Ned Steinberger. Ned's instruments have been pushing the boundaries both sonically and aesthetically for over 40 years and been played by the very best of the best musicians around the world. Steinberger: A Story of Creativity and Design explores Ned Steinberger's revolutionary contributions to the world of musical instrument design. The first instrument he ever created, the Spector NS-1 bass guitar in 1977, is still Spector's best-selling instrument design. With his next instruments, the Steinberger basses and guitars, Ned literally cut the head off the world of guitar and bass and redefined what the electric bass and guitar could be. Steinberger instruments defined a generation of musicians both sonically and visually and were played by the biggest artists of the day, including Sting, Bill Wyman of the Rolling Stones, and Eddie Van Halen. Never one to slow down, Ned moved from electric guitars and basses to bowed electric instruments. His NS Design instruments once again set the industry standards. Throughout his career Ned has also worked with other builders and manufacturers and created or contributed to countless projects ranging from electronic tuners and pickups to acoustic guitars and drum head tuners. Truly, anytime you see 'NS' in a music store it stands for Ned Steinberger. With all those accomplishments, many say that Ned is an unlikely musical hero. Therein lies the story. He is not a musician. He comes from the world of art and design rather than the world of music, but his influence can be seen to this day and he holds a place of honor alongside other visionaries like Leo Fender, Les Paul and Ted McCarty.
About the Author
Writer and musician, Jim Reilly, studied both jazz guitar and journalism in college and has spent the past 20 years or so combining those two loves. "I see music and writing as different expressions of the same creative impulse," he says. "Music lives in the moment - writing captures that moment and gives it form and shape." Currently living in Calgary, Alberta, Canada, as a musician, Jim is equally at home on guitar, bass, or Chapman Stick. As a writer, he has done promotional work for other artists and music companies, written for CBC Radio One, and had features published many music magazines. This is his third book, joining The Bass Player and StickMan: The Story of Emmett Chapman and the Instrument He Created as explorations of how the creative impulse manifests itself through unconventional heroes. For more information, please see www.jimreilly.ca.