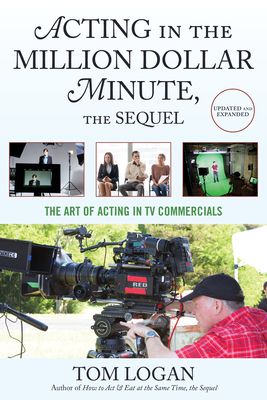 Acting in the Million Dollar Minute, the Sequel
The Art of Acting in TV Commercials, Updated and Expanded
Paperback

* Individual store prices may vary.
Description
Acting in the Million Dollar Minute deals exclusively with the art of acting in commercials. Updated, revised, and expanded for today's commercial actor, Tom Logan uses decades of experience to give the commercial actor insight into what happens on set and how a commercial is shot. He includes guidance on how to decipher the meaning behind the commercial script, begin and end each performance, immediately obtain the auditioners' attention, and beat out your competition. In addition, Logan offers direction on "taking the camera" from another actor (i.e., upstaging), working with the product, what separates the actor who got the part from the actors who didn't, and how to give the director a performance he can "cut" in the editing room. Compiled from thousands of comments from hundreds of casting directors, ad executives, producers, and more, Acting in the Million Dollar Minute provides practical advice from an award-winning director.
Rowman & Littlefield Publishers, 9781538137642, 304pp.
Publication Date: January 19, 2021
About the Author
Tom Logan is a multi-award-winning director who has written, produced, and directed a long list of TV shows, feature films, and national and international TV commercials. He is the author of the very popular How to Act & Eat at the Same Time: the Do's and Don'ts of Landing a Professional Acting Job and How to Act & Eat at the Same Time: The Sequel. Tom has two sons and lives in Newport Beach, California, and on Lake Coeur d'Alene in Coeur d'Alene, Idaho.