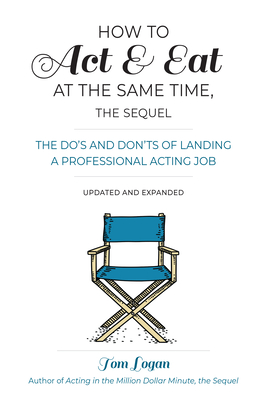 How to Act & Eat at the Same Time, the Sequel
The Do's and Don'ts of Landing a Professional Acting Job
Paperback

* Individual store prices may vary.
Description
This essential update to the classic book from the ultimate insider, Tom Logan, contains everything you need to know about the profession of acting from both sides of the camera. Previously a highly successful working actor, Tom Logan brings that experience to this updated and expanded edition of How to Act & Eat at the Same Time, the Sequel, but through the unique lens of now being an extremely successful working TV, film, and commercial director, writer, and producer. You'll learn that ultimately, success in an audition has absolutely nothing to do with acting. Rather, it's having the essential audition skills--which you won't find in a "how to" audition book. That's what you'll learn from a master who has spent a career in and around the universe of auditions and the casting process. All sixteen chapters have been brought up-to-date, making this book a must read for today's aspiring and working actors. And all of the appendices containing the essential practical information an actor needs in his toolbox has been updated too - resource websites; SAG, AFTRA, and Equity locations; rules and requirements for joining SAG, AEA, and Equity; plus, an updated glossary.
Rowman & Littlefield Publishers, 9781538137727, 326pp.
Publication Date: February 15, 2021
About the Author
Tom Logan is a multi-award-winning director who has written, produced, and directed a long list of TV shows, feature films, and national and international TV commercials. He headed the TV/film & commercial acting departments in Los Angeles at two of the most prestigious acting schools worldwide--the American Academy of Dramatic Arts (1981-1989), and the American Film Institute (1980-1989). Logan is the author of the very popular Acting in the Million Dollar Minute, the Sequel: The Art of Acting in TV Commercials, Updated and Expanded. Tom has two sons and lives in Newport Beach, California, and on Lake Coeur d'Alene in Coeur d'Alene, Idaho.