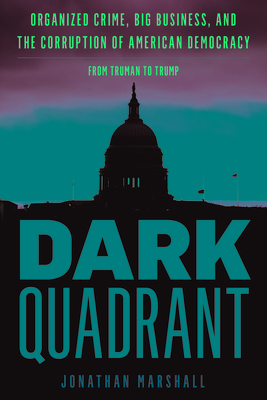 Dark Quadrant
Organized Crime, Big Business, and the Corruption of American Democracy (War and Peace Library)
Hardcover

* Individual store prices may vary.
Other Editions of This Title:
Digital Audiobook (6/14/2021)
Description
From Truman to Trump, the deep corruption of our political leaders unveiled. Many critiques of the Trump era contrast it with the latter half of the twentieth century, when the United States seemed governed more by statesmen than by special interests. Without denying the extraordinary vigor of President Trump's assault on traditional ethical and legal norms, Jonathan Marshall challenges the myth of a golden age of American democracy. Drawing on a host of original archival sources, he tells a shocking story of how well-protected criminals systematically organized the corruption of American national politics after World War II. Marshall begins by tracing the extraordinary scandals of President Truman, whose political career was launched by the murderous Pendergast machine in Missouri. He goes on to highlight the role of organized crime in the rise of McCarthyism during the Cold War, the near-derailment of Vice President Johnson's political career by two mob-related scandals, and Nixon's career-long association with underworld figures. The book culminates with a discussion of Donald Trump's unique history of relations with the traditional American Mafia and newer transnational gangs like the Russian mafiya--and how the latter led to his historic impeachment by the House of Representatives.
Rowman & Littlefield Publishers, 9781538142493, 416pp.
Publication Date: April 9, 2021
About the Author
Jonathan Marshall is an investigative historian and award-winning journalist who has published five previous non-fiction books. His articles have appeared in the New York Times, Wall Street Journal, Washington Post, and a variety of scholarly journals. He lives in San Anselmo, California.
or
Not Currently Available for Direct Purchase