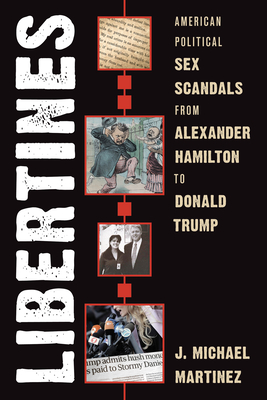 Libertines
American Political Sex Scandals from Alexander Hamilton to Donald Trump
Hardcover

* Individual store prices may vary.
Description
Libertines seeks to understand why public figures sometimes take extraordinary risks, sullying their good names, humiliating their families, placing themselves in legal jeopardy, and potentially destroying their political careers as they seek to gratify their sexual desires. From Hamilton to Trump and the many in between, each case of sexual misconduct in this book shows the seamy side of political lives, with calculations about covering discretions or portraying them favorably occurring only after the fact.
Rowman & Littlefield Publishers, 9781538167533, 260pp.
Publication Date: June 15, 2022
About the Author
J. Michael Martinez is the author or editor of 15 books on American history and law including the Rowman & Littlefield titles A Long Dark Night: Race in America from Jim Crow to World War II (2016), Terrorist Attacks on American Soil: From the Civil War Era to the Present (2012), Coming for to Carry Me Home: Race in America from Abolitionism to Jim Crow (2011), and Carpetbaggers, Cavalry, and the Ku Klux, Klan: Exposing the Invisible Empire during Reconstruction (2007).