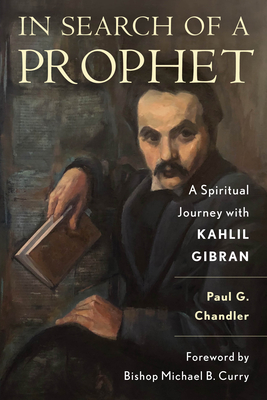 In Search of a Prophet
A Spiritual Journey with Kahlil Gibran
Paperback

* Individual store prices may vary.
Other Editions of This Title:
Hardcover (9/1/2017)
Description
"A profound spiritual exploration into the life and work of the beloved poet Kahlil Gibran, a much-needed guide for our times." -Reza Aslan, author of Zealot In Search of a Prophet is a fascinating journey through the spiritual life of Kahlil Gibran, the great Lebanese poet and author of The Prophet, a book originally published in 1923 that has sold over 10 million copies and been translated into dozens of languages. Capturing our imaginations and enriching our spirits, Paul-Gordon Chandler explores this beloved writer and artist, a celebrated mystic who sought to build bridges and tear down walls and who remains a cultural icon among all people of goodwill. In Search of a Prophet is not a traditional biography but a compelling spiritual journey through Gibran's writings, art, and the places he lived. From Gibran's birthplace village high in the snowy mountains of Lebanon, Chandler leads us through his emigration to Boston, art training in Paris, career in New York, and to the far-reaching places of influence his writings and art have traveled, alerting readers of Gibran's continuing relevance for today. This paperback edition, commemorating the 100th anniversary of the publication of The Prophet, includes a foreword by The Most Rev. Bishop Michael Curry, presiding bishop of the Episcopal Church, as well as a new preface by the author.
Rowman & Littlefield Publishers, 9781538175422, 208pp.
Publication Date: April 15, 2023
About the Author
Paul-Gordon Chandler is the Bishop of the Episcopal Church in Wyoming. He grew up in Senegal, West Africa, and has lived and worked extensively around the world in senior leadership roles within faith-based publishing, the arts, ecumenical relief and development, and The Episcopal Church. He is the author of Pilgrims of Christ on the Muslim Road: Exploring a New Path between Two Faiths (Rowman & Littlefield) and can be reached at: www.paulgordonchandler.com.