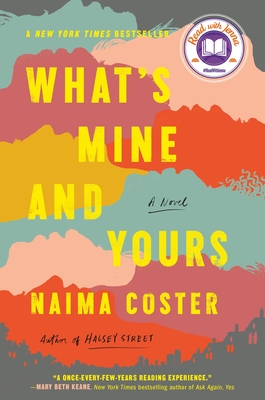 What's Mine and Yours
Hardcover

* Individual store prices may vary.
Other Editions of This Title:
Digital Audiobook (3/1/2021)
Paperback (1/25/2022)
Library Binding, Large Print (9/28/2021)
Compact Disc (3/2/2021)
Description
A Read with Jenna Today Show Book Club Pick!

An instant New York Times bestseller!

A USA Today bestseller!

Named a Best Book of 2021 by Amazon • Esquire • Marie Claire • Refinery29 • Kirkus • Redbook • Ms. Magazine • The Millions • Undomesticated Magazine • Paperback Paris

"A once-every-few-years reading experience."—Mary Beth Keane, New York Times bestselling author of Ask Again, Yes

"Coster portrays her characters' worlds with startling vitality. As the children fall in lust and love, grapple with angst and battle the tides of New South politics, Coster's writing shines"—New York Times Book Review

From the author of Halsey Street, a sweeping novel of legacy, identity, the American family—and the ways that race affects even our most intimate relationships.

A community in the Piedmont of North Carolina rises in outrage as a county initiative draws students from the largely Black east side of town into predominantly white high schools on the west. For two students, Gee and Noelle, the integration sets off a chain of events that will tie their two families together in unexpected ways over the next twenty years.

On one side of the integration debate is Jade, Gee's steely, ambitious mother. In the aftermath of a harrowing loss, she is determined to give her son the tools he'll need to survive in America as a sensitive, anxious, young Black man. On the other side is Noelle's headstrong mother, Lacey May, a white woman who refuses to see her half-Latina daughters as anything but white. She strives to protect them as she couldn't protect herself from the influence of their charming but unreliable father, Robbie.

When Gee and Noelle join the school play meant to bridge the divide between new and old students, their paths collide, and their two seemingly disconnected families begin to form deeply knotted, messy ties that will shape the trajectory of their adult lives. And their mothers—each determined to see her child inherit a better life—will make choices that will haunt them for decades to come.

As love is built and lost, and the past never too far behind, What's Mine and Yours is an expansive, vibrant tapestry that moves between the years, from the foothills of North Carolina, to Atlanta, Los Angeles, and Paris. It explores the unique organism that is every family: what breaks them apart and how they come back together.
Praise For What's Mine and Yours…
"At its heart, What's Mine and Yours is a coming-of-age story—one that examines the unraveling of marriages, complexities of siblinghood and reckonings with parents… Coster portrays her characters' worlds with startling vitality. As the children fall in lust and love, grapple with angst and battle the tides of New South politics, Coster's writing shines"
—
New York Times Book Review
"The complex characters will stay with you—maybe even change you."—
People
"Coster's remarkable characters, each one of them authentically flawed and gorgeously realized, propel this wise and loving story ever forward, making for a graceful meditation on family, inequality, and the ties that bind."
—
Esquire
"Coster is an exacting observer but also an endlessly generous one… It's the individual moments that are exquisite, each chapter a tiny snapshot of a whole world. Tender but—miraculously—never sentimental."
—
Kirkus (starred review)"What's Mine and Yours
is a once-every-few-years reading experience for me. I was completely seduced by the honesty of Coster's prose, the tenderness she has for her characters. To say Coster pulls off something special here is a massive understatement. I've placed this novel on a shelf among those most dear to me, and I imagine I'll return to it many, many times."—
Mary Beth Keane, New York Times bestselling author of Ask Again, Yes
"Coster balances the tender and the sharp moments shared between families better than anyone else writing."—
Elizabeth Acevedo, National Book Award winner of Poet X
"
What's Mine and Yours
is both intimate and sweeping: an exploration of many kinds of love, the repercussions of long-ago decisions, and the burdens of personal and political history. In deft, elegant prose, Naima Coster limns passions and betrayals and long-held grievances, the ties that bind and the ones that fray and tatter. I loved this novel."—
Christina Baker Kline, #1 New York Times bestselling author of Orphan Train and The Exiles"What's Mine and Yours
explodes with love, passion, and their piercing aftermath. Naima Coster renders two unforgettable families, their labyrinthine bonds and heartaches, with propulsive and startling clarity. This is a novel of scorching beauty."—
Patricia Engel, author of Infinite Country
"Coster… depict[s the characters] complex situations and moral ambiguities with depth and compassion. Weaving numerous plot threads — miscarriages, abortions, divorces, brain tumors, benders—into an intricate tapestry, Coster shows, as one of her indelible minor characters declares, that 'It's only our life if we say so. Otherwise it belongs to them.'"—
Minneapolis Star Tribune
"
What's Mine and Yours
is a lyrical, universal story about home, reminiscent of the works of Jacqueline Woodson and Tayari Jones."—
Atlanta Journal-Constitution
"Rare is the book that manages to be both a finely wrought character study as well as a multi-family saga…but Naima Coster's new novel does just that — and more. Coster writes with a singular sensitivity and nuance."
—
Refinery29
"
What's Mine and Yours
is powerful and unfailingly generous, a story of two families you won't be able to forget. Marvelously profound and moving."—
R.O. Kwon author of The Incendiaries
"Moving fluidly between perspectives and time,
What's Mine and Yours
is a mesmerizing story of two families brought together through choice and circumstance in one North Carolina town. Naima Coster is a storyteller of astounding clarity and compassion."-—
Lisa Ko, National Book Award finalist of The Leavers
"
What's Mine and Yours
is a book about parents who try and fail and then try again. An extraordinary cast of characters, nuanced and full of insight. It's about children who hold their loved ones accountable. It reveals in absolutely engrossing and tension-filled prose how a tragedy haunts a family. Coster is a master storyteller through and through. Read this book."—
Angie Cruz, author of Dominicana
"
What's Mine And Yours
is a powerful and timely family saga about the complex webs forged by love and tragedy - gripping, generous, and deeply felt. It's a moving examination of what we inherit, and what it means to love both wholeheartedly and imperfectly. This is a book, in other words, for anyone who's ever had a family."—
Rachel Khong, author of Goodbye, Vitamin
"Naima Coster's
What's Mine and Yours
patiently and unerringly tracks the boundaries, unearths the secrets, and stares unblinkingly at what's essential to knowing oneself and the larger histories we're forced to navigate. A beautifully-wrought investigation of family, race, inheritance, and belonging."—
Cristina García, author of Here in Berlin and Dreaming in Cuban
Naima Coster's
What's Mine and Yours
moves from moment to moment of startling grace. This expansive, generous novel tackles big themes - systemic racism, the reverberations of gun violence, class inequity - but it always feels thrillingly personal. Multiple times, it moved me to tears. An exquisite and vital portrait of family, place, and the bonds that transform our lives,
What's Mine and Yours
is more than a beautiful read - it's an essential one, destined to be talked about for years to come as a book that saw the world and spoke the truth with tenderness, wisdom, and love."—
Julie Buntin, author of Marlena
"Through its flawed and flawlessly crafted ensemble cast, Naima Coster's 
What's Mine and Yours 
shows us how a single tragedy ripples through two families and a community already on the edge. Crisscrossing time, states, and the Atlantic Ocean, Coster explores the complexities of marriage, race, and family ties in this engrossing and deftly woven novel."—
Melissa Rivero, author of The Affairs of the Falcóns
"Naima Coster weaves a beautiful tapestry of voices together in What's Mine and Yours. This is a sprawling, moving narrative about the messiness of love and family, mothering, race, and community. Here we follow two families connected by place and circumstance as they try to free themselves of those bonds. The result? Rich, complex individual stories that merge to form a satisfying, startling end."—
Crystal Hana Kim, Author of If You Leave Me
"Naima Coster is definitely a writer to watch. Her clear-eyed writing interrogates race, class, and family in a refreshing and thoroughly engaging way. A lovely and thoughtful book."—
Jacqueline Woodson, author of Red at the Bone and National Book Award winner (praise for Halsey Street)
Grand Central Publishing, 9781538702345, 352pp.
Publication Date: March 2, 2021
About the Author
Naima Coster is the author of Halsey Street, and a finalist for the 2018 Kirkus Prize for Fiction. Naima's stories and essays have appeared in the New York Times, Kweli, the Paris Review Daily, Catapult, the Rumpus, and elsewhere. She holds an MFA in Creative Writing from Columbia University, as well as degrees from Fordham University and Yale. She has taught writing for over a decade, in community settings, youth programs, and universities. She lives in Brooklyn with her family.