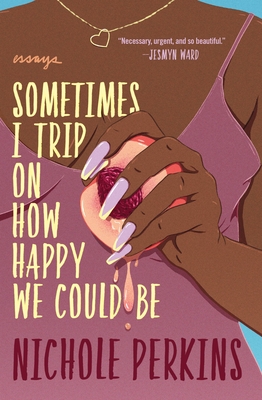 Sometimes I Trip On How Happy We Could Be
Paperback

* Individual store prices may vary.
Other Editions of This Title:
Digital Audiobook (8/16/2021)
Compact Disc (8/17/2021)
Description
"Hear the dark liquor of her laughter rippling behind her sentences" in this magnetic memoir as it explores a journalist's obsession with pop culture and the difficulty of navigating relationships as a Black woman through fanfiction, feminism, and Southern mores (Saeed Jones). 

A Roxane Gay Audacious Bookclub November Pick
Named "Most Anticipated Books of 2021" by Buzzfeed  and Lithub
 
Pop culture is the Pandora's Box of our lives. Racism, wealth, poverty, beauty, inclusion, exclusion, and hope -- all of these intractable and unavoidable features course through the media we consume. Examining pop culture's impact on her life, Nichole Perkins takes readers on a rollicking trip through the last twenty years of music, media and the internet from the perspective of one southern Black woman. She explores her experience with mental illness and how the TV series Frasier served as a crutch, how her role as mistress led her to certain internet message boards that prepared her for current day social media, and what it means to figure out desire and sexuality and Prince in a world where marriage is the only acceptable goal for women. 
 
Combining her sharp wit, stellar pop culture sensibility, and trademark spirited storytelling, Nichole boldly tackles the damage done to women, especially Black women, by society's failure to confront the myths and misogyny at its heart, and her efforts to stop the various cycles that limit confidence within herself. By using her own life and loves as a unique vantage point, Nichole humorously and powerfully illuminates how to take the best pop culture has to offer and discard the harmful bits, offering a mirror into our own lives.
Praise For Sometimes I Trip On How Happy We Could Be…
"Nichole Perkins is a master storyteller like no other. This collection of intimate essays showcases her warm, inviting, provocative voice. . . Enjoy breezing through this book and don't be surprised when you wish for more once it's over."

 —NPR

"[S]ummer reading at its finest. Equal parts juicy joy, plaintive longing, vulnerable honesty and 'It's funny 'cause it's true' moments, this lyrical essay collection is the perfect companion for fruity-drink–fueled afternoons by the pool."
 —Essence Magazine

"[S]aucy and smart."—Oprah Daily

"One of the most fearless books out there. . . Utilizing humor, raw honesty, and an intimate writing style with which readers can easily connect, Perkins has crafted a powerful memoir that is well worth the read."—Associated Press

"A thoroughly enjoyable journey into the mind of a beloved pop-culture commentator. . . The author is unafraid to lay herself bare, and she boldly recounts the ups and downs of her life as a Black girl and woman. . . She continues to strive and persevere by honing the ultimate secret weapons: self-acceptance and self-care. Fans will appreciate this closer look into Perkins' life and adventures, and newcomers will get to know her well."—Kirkus, starred review

"This is a funny, sexy, reverent, vulnerable meditation on Black women's sexuality through one woman's journey to her own hard-won power, a gift to memoir readers."—Booklist, starred review

"Memoir readers who appreciate unpredictability, candor, and pop culture will enjoy this book and may very well find themselves thinking about it even weeks after they've finished it."—Library Journal, starred review

"It's funny, pointed and may inspire a rewatch or two."—Good Housekeeping

"[A] powerful work of cultural criticism . . . Perkins paints an exuberant portrait of a Black woman speaking to and from her power. Tender and bright, this intimate work piques nonstop."—Publishers Weekly

"If you decide to do what I have done—read this essay collection—prepare to have Perkins' prose snatch your pearl-clutching inclinations clean off your neck. . . One of the most significant things Perkins accomplishes with this essay collection is to further demonstrate the complexity of the Black experience. The points she chooses to stress in her book illustrate a truth that needs to be constantly reiterated in our culture—Black people are not a monolith."—The Rumpus

"Perkins' ability to drift between hilarity and sincerity is her greatest skill as a writer… Perkins' candor might just encourage readers to be a bit more upfront about their own desires."—Bust Magazine

"Nichole Perkins feels like everyone's best friend: The writer and podcaster is introspective, observant, and funny as hell. . . If you've enjoyed Perkins on podcasts, you'll absolutely love this memoir."—Bitch Media

"In these sharp, uncompromising essays, Nichole Perkins probes the intersections between her blackness, hailing from the South, her womanhood, and her sexuality. There is an appealing self-awareness in these essay— a willingness to examine her flaws as much as her strengths. The book gets stronger and stronger and the final few essays are clarion calls to naming things as they are, claiming the power you desire, and embracing yourself unapologetically."—Roxane Gay, New York Times bestselling author of Bad Feminist

"Nichole's work is necessary, urgent, and so beautiful. At turns surprising and familiar, tender and brutal, the entire collection is a love letter to the black girls we were, to the black women we are, and to the brave, new beings we are growing up to be."—Jesmyn Ward, National Book Award-winning author of Sing, Unburied, Sing

"It is not easy to be open with reflections on sexuality, intimacy, pleasure, religion, race, and class, but Nichole does so with such intellect, thoughtfulness, and levity. Sometimes I Trip On How Happy We Could Be is not only another welcomed contribution because of the sharp, funny, and focused voice Nichole Perkins brings to those issues and others, but that she brings a working class southern Black perspective that more of America needs to hear from." —Michael Arceneaux, New York Times bestselling author of I Can't Date Jesus: Love, Sex, Family, Race, and Other Reasons I've Put My Faith in Beyoncé and I Don't Want To Die

"For me, the joy in reading SOMETIMES I TRIP ON HOW HAPPY WE COULD BE is in witnessing how — essay by essay, revelation by hard-won revelation — Nichole comes into awareness of her own power like a storm gaining strength just off the coast. The girl who sneaks romance novels into Sunday church services becomes the woman asking tough, keen questions about what she wants and what we all want. I hear the dark liquor of her laughter rippling behind her sentences. I hear the rich timbre of a writer who knows that vital power lives in pleasures."—Saeed Jones, award-winning author of How We Fight for Our Lives

"These essays are at once poignant, timely, and a lot of fun to read. In Sometimes I Trip On How Happy We Could Be, Nichole Perkins manages to write about Prince as brilliantly as she does her first hotmail account, and makes it look easy. This book is meant to be read in the bathtub, with good wine, and even better company on the way."
 —Ashley C. Ford, author of Somebody's Daughter

"Sometimes I Trip On How Happy We Could Be is easily one of the best books I've read in the last two years. Nichole Perkins is a force, and a must watch. The opening essay is as striking as the last. I laughed, I cried, and I felt seen. Like the best books are, this is a wonderful journey. I already can't wait to read it again."
 —Keah Brown, author of The Pretty One

"[A] candid, affecting, and joyful read."—Buzzfeed

"Perkins has a gift for crafting funny and insightful essays."—Popsugar

"Witty, poignant and devastatingly candid, this is 2021's ultimate non-fiction beach read."—theGrio

"For a hilarious read, pick up Sometimes I Trip on How Happy We Could Be, a memoir by Nichole Perkins that is achingly honest and personal."—The Montecito Journal

"Every essay in this ambitious collection is worth reading and rereading. By the time you turn the page and close the book, you'll love Nichole almost as much as I do."—Real Simple

"[T]he blend of topics are entertaining and eye-opening as [Perkins] dissects what she learned from her experiences and how societal misconceptions affect those experiences like with her familial relationships, romantic relationships, and friendships in real life and online."—She Lit

"Sometimes I Trip on How Happy We Could Be is at times heartwarming and heartbreaking, honest and humane, humorous and haunting. It's the chronicle of Perkins' growth into herself as a person, as a Black Southern woman, as someone who fully inhabits her body, and as someone who has had to learn by trial and error what all of that means."—Memphis Flyer
Grand Central Publishing, 9781538702741, 272pp.
Publication Date: August 17, 2021
About the Author
Nichole Perkins is a writer from Nashville, Tennessee. She examines the intersections of pop culture, race, sex, gender, and relationships. Nichole is a 2017 Audre Lorde Fellow at the inaugural Jack Jones Literary Arts Retreat and a 2017 BuzzFeed Emerging Writers Fellow. She is also a 2016 Callaloo Creative Writing Fellow for poetry. She formerly co-hosted "Thirst Aid Kit," a podcast about pop culture and desire, with Bim Adewunmi, a producer at "This American Life," and was also a co-host of "The Waves" podcast at Slate, which looked at news and culture through a feminist lens. Her first collection of poetry, Lilith, but Dark, was published by Publishing Genius in July 2018.