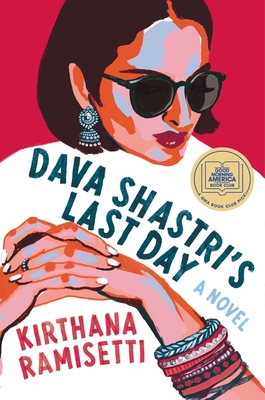 Dava Shastri's Last Day
Hardcover

* Individual store prices may vary.
Description
In this thought-provoking and entertaining debut novel about of a multicultural family, a dying billionaire matriarch leaks news of her death early so she can examine her legacy—a decision that horrifies her children and inadvertently exposes secrets she has spent a lifetime keeping.
Dava Shastri, one of the world's wealthiest women, has always lived with her sterling reputation in mind. A brain cancer diagnosis at the age of seventy, however, changes everything, as she decides to take her death—like all matters of her life—into her own hands.

Summoning her four adult children to her private island, she discloses shocking news: in addition to having a terminal illness, she has arranged for the news of her death to break early, so she can read her obituaries.

As someone who dedicated her life to the arts and the empowerment of women, Dava expects to read articles lauding her philanthropic work. Instead, her "death" reveals two devastating secrets, truths she thought she had buried forever.

And now the whole world knows, including her children.

In the time she has left, Dava must come to terms with the decisions that have led to this moment—and make peace with those closest to her before it's too late. Compassionately written and chock-full of humor and heart, this powerful novel examines public versus private legacy, the complexities of love, and the never-ending joys—and frustrations—of family.
Praise For Dava Shastri's Last Day…
"Dava Shastri's Last Day is a story about ambition and greatness, wealth and family, full of secrets, love, and music, and those eternal pop song complements: heartbreak and hope. It's a gripping, deeply satisfying story about one woman's tremendous life—and the infinitely complicated ways we create our own legacies."
—
Kate Racculia, Author of Tuesday Mooney Talks to Ghosts and Bellweather Rhapsody
"Kirthana Ramisetti has written a sweeping saga and also a poignant story about sacrifice and the exacting price of secrecy. Cinematic and intimate, 
Dava Shastri's Last Day 
is an intricate story about family and love."—
Devi S. Laskar, Author of The Atlas of Reds and Blues
"Ramisetti beautifully weaves keen analysis of celebrity culture and a deep love of music into this perceptive, intergenerational story of resentment, trauma, love, and redemption. A page-turner with humor, heart, and lots of pop music."—
Jennifer Keishin Armstrong, New York Times bestselling author of Seinfeldia
Grand Central Publishing, 9781538703861, 384pp.
Publication Date: December 7, 2021
About the Author
As a former entertainment reporter for Newsday and the New York Daily News, Kirthana Ramisetti has written her fair share of stories about the lives (and deaths) of the rich and famous. She has a master's degree in creative writing from Emerson College and has published work in the Wall Street Journal, Entertainment Weekly, The Atlantic, TODAY.com and elsewhere.