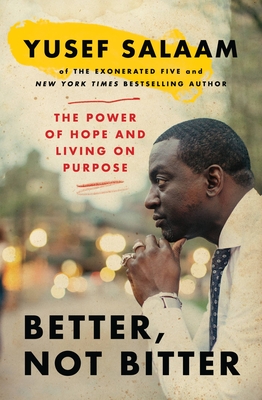 Better, Not Bitter
The Power of Hope and Living on Purpose
Paperback

* Individual store prices may vary.
Other Editions of This Title:
Digital Audiobook (5/17/2021)
Hardcover (5/18/2021)
Compact Disc (5/18/2021)
Description
This inspirational memoir serves as a call to action from prison reform activist Yusef Salaam, of the Exonerated Five, that will inspire us all to turn our stories into tools for change in the pursuit of racial justice.

They didn't know who they had.

So begins Yusef Salaam, telling his whole story for the first time: of resilience in the face of one of the gravest miscarriages of justice. Despite having confronted the racist heart of America, Yusef channeled his energy and pain into self-determination and positivity. During his seven years of wrongful incarceration as one of the Central Park Five, Yusef gained a spiritual perspective on life, realizing that we are all "born on purpose, with a purpose."

Better, Not Bitter is the inspirational story of a young man growing up in central Harlem in the '80s, the failure of America's criminal justice system, of being vilified by a nation. But during his years of incarceration, Yusef discovered the power of art and faith, and of holding on to the person you know you are, which gave him the strength to survive, and helped him through reentry and exoneration.

Yusef's journey inspires us to accept our own path, to discover our own sense of purpose. His intimate insights help unpack the racist design of systems built for profit and oppression of Black and Brown people. This motivational memoir urges us to channel fury into action, and to turn anger and trauma into a constructive force to enact change in one's own life and for a better future.
Praise For Better, Not Bitter: The Power of Hope and Living on Purpose…
"Salaam's compelling memoir is one of astounding warmth…This book should be read by anyone who wants to hear the story of the Exonerated Five directly from one of its members."—
NPR
"An important memoir and call to action that sheds light on the personal injustices of mass incarceration."—
Library Journal
"Warm, generous, and inspirational: a book for everyone."
—
Kirkus
"Salaam is able to convey hope and humor while illuminating the many ways violence thrives. Better, Not Bitter is a wake-up call that urges readers to "dream again" and to recognize the ways in which they've been imprisoned—whether in a physical prison, or by racism, capitalism, health issues or other societal ills and injustices."
—
Shelf Awareness
"Better Not Bitter is equal parts, a luminous journey of awakening, and an indictment of a system that swallows boys and girls whole, only to spit out their broken bones. It is an urgent and poetic treatise on the human spirit's ability to make itself whole again over and over. I cried for the little boy who was imprisoned, and rejoiced for the man who emerged years later as a battle tested warrior for justice."
—
Shaka Senghor, New York Time bestselling author of Writing my Wrongs
"An uplifting and hopeful book."
—
Booklist
Grand Central Publishing, 9781538704998, 304pp.
Publication Date: May 17, 2022
About the Author
Yusef Salaam is the inspirational speaker and prison abolitionist, who, at age fourteen was one of the five teenage boys wrongly convicted and sentenced to prison in the Central Park jogger case. In 1997, he left prison as an adult to a world he didn't fully recognize or understand. In 2002, the sentences for the Central Park Five were overturned, and all Five were exonerated for the crime they didn't commit.

Yusef now travels the world as an inspirational speaker, speaking about the effects of incarceration and the devastating impact of disenfranchisement. He is an advocate and educator on issues of mass incarceration, police brutality and misconduct, press ethics and bias, race and law, and the disparities in the criminal justice system, especially for men of color.