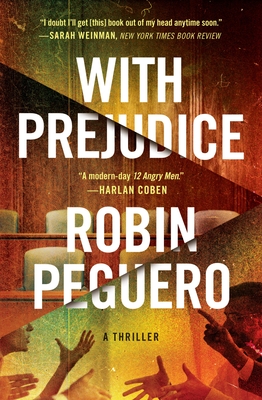 With Prejudice
Paperback

* Individual store prices may vary.
Other Editions of This Title:
Digital Audiobook (5/16/2022)
Hardcover (5/17/2022)
Compact Disc (5/17/2022)
Description
No one knows what happened that night. Seven strangers must decide.
Earl Thomas, a straight-laced taxman with his fair share of police encounters, is the begrudging foreperson in a high-stakes trial in Miami. Laura Hurtado-Perez is a physician whose unassuming manner conceals a private pain. Joseph Cole is the founder of his local neighborhood watch, unduly obsessed with the families around him.

Along with four others, these jurors of varying ages and walks of life whose paths would likely never have otherwise crossed must come together to make one of the most important decisions of their lives.

On the night Melina Mora, a free-spirited woman both proud and kind, was murdered, she was seen with a young man of Gabriel Soto's description. Two strands of her hair were found in his bedroom. Sandy Grunwald, a young prosecutor whose political ambitions depend on securing a conviction, finds herself pitted against Jordan Whipple, a preening public defender armed with a freshly discovered, dynamite piece of evidence on the eve of the trial—if the Honorable Darla Tackett will admit it.

What Sandy, Jordan, and Judge Tackett all know, however, is that the criminal justice system is complicated, and everyone has a story—especially the jury. And it's their experiences, biases, and beliefs that will ultimately shape the verdict.

With striking originality and expert storytelling, Robin Peguero's debut novel explores the prejudice that hangs over every trial in America. You've never read a legal thriller quite like this. There's never been a thriller writer quite like Peguero. And you will not be able to predict how it all ends.
Praise For With Prejudice…
"With Prejudice is one of the best legal thrillers I've ever read. The story is tense, exciting, and full of twists and turns, with fascinating insights into the intricate workings of the courtroom. But what the author describes is about more than evidence, testimony and legal strategy. It's a gauntlet where the law is punched, kicked and shaped by people with vastly different agendas. With Prejudice is a deeply human story that reveals all the ways that justice isn't blind. It sees through many eyes."—Joe Ide, author of IQ and Smoke

"With Prejudice is a completely unique, utterly captivating legal thriller. Former prosecutor Robin Peguero's keen understanding of the justice system—and all its flaws—propels this fast-paced, deeply original novel, leading us into the dark corners of the human mind and heart. The characters are vivid, the storyline compelling, and the writing razor sharp. I tore through it."—Julia Dahl, author of The Missing Hours, Conviction, Run You Down, and Invisible City
Grand Central Publishing, 9781538706299, 320pp.
Publication Date: February 28, 2023
About the Author
Robin Peguero spent seven years storytelling to juries for a living, most recently as a homicide prosecutor in Miami. An Afro-Latino and the son of immigrants, he graduated from Harvard College and Harvard Law School. He has written for the Miami Herald, the Harvard Crimson, and the Harvard Law Review, and he served as a press spokesman in the U.S. House and as a speechwriter in the U.S. Senate before becoming a lawyer. He is currently a U.S. House investigative counsel working on domestic terrorism.