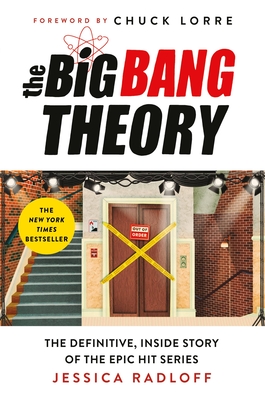 The Big Bang Theory
The Definitive, Inside Story of the Epic Hit Series
Hardcover

* Individual store prices may vary.
Other Editions of This Title:
Digital Audiobook (10/10/2022)
Compact Disc (10/11/2022)
Description
The definitive, behind-the-scenes look at the most popular sitcom of the last decade, The Big Bang Theory, packed with all-new, exclusive interviews with the producers and entire cast.

The Big Bang Theory is a television phenomenon. To the casual viewer, it's a seemingly effortless comedy, with relatable characters tackling real-life issues, offering a kind of visual comfort food to its millions of dedicated fans. But the behind-the-scenes journey of the show from a failed pilot to a global sensation is a fascinating story that even the most die-hard fans don't know in its entirety. 

THE BIG BANG THEORY: THE DEFINITIVE, INSIDE STORY OF THE EPIC HIT SERIES is a riveting, entertaining look at the sitcom sensation, with the blessing and participation of co-creators Chuck Lorre and Bill Prady, executive producers Steve Molaro and Steve Holland, as well as Johnny Galecki, Jim Parsons, Kaley Cuoco, Simon Helberg, Kunal Nayyar, Melissa Rauch, Mayim Bialik, and more. Glamour senior editor Jessica Radloff, who has written over 150 articles on the series (and even had a cameo in the finale!), gives readers an all-access pass to its intrepid producing and writing team and beloved cast. It's a story of on-and-off screen romance told in hilarious and emotional detail, of casting choices that nearly changed everything (which even some of the actors didn't know until now), of cast members bravely powering through personal tragedies, and when it came time to announce the 12th season would be its last, the complicated reasons why it was more difficult than anyone ever led on. Through hundreds of hours of interviews with the sitcom's major players, Radloff dives into all this and much more. The book is the ultimate celebration of this once-in-a-generation show and a must-have for all fans. 
 
Praise For The Big Bang Theory: The Definitive, Inside Story of the Epic Hit Series…
"A fun look at the sitcom megahit. . . Entertaining in its own right, this book examines the how and why behind the success of a landmark series."—Kirkus Reviews

"At some point while talking with Jessica, I realized how easy it had been for me to kind of put all 12 years of my time on Big Bang Theory under one general umbrella, as it were. The questions she asked and the information she'd reveal to me from someone else she'd interviewed forced me into a frame of mind where each season - and sometimes each episode - became it's own, separate entity again, revealing how much we as people had changed through this process, how much the characters changed… but also how certain things remained the same. Frankly, it turned into a version of therapy I hadn't realized I'd needed and couldn't have known how much I'd enjoy it, going down memory lane like this."—Jim Parsons

"I'm so excited for fans to finally see my behind-the-scenes Polaroids for the first time. These photos are very special and super personal, so knowing Jess was taking such care with them, as she did with this book, was very comforting to me."—Kaley Cuoco

"There is no one more enthusiastic, more knowledgeable, more competent, or more dialed into the pulse of TBBT than Jessica Radloff. Jessica cultivated deep and rich relationships with all of us on TBBT over many years so that she can bring you the most detailed, delightful, and authentic TBBT book there will ever be. Bravo, Jessica, for putting up with us for so many hours of discussion, reminiscence, laughter and tears; thank you for being a part of our show's impact with this thorough and exceedingly well-researched work of art!"—Mayim Bialik

"I knew we would learn things in this book, but...wow."—Simon Helberg

"Jessica Radloff is the ultimate Big Bang whisperer...if you're a fan of the show, you owe it to yourself to read every fascinating word she unearthed in this incredible book!"—Melissa Rauch

"We spent 12 years together in a very safe bubble. There is no one we trust more than Jessica to share all those years on stage 25. You know the characters, now you'll get to know the people who played them."—Kunal Nayyar
Grand Central Publishing, 9781538708491, 528pp.
Publication Date: October 11, 2022
About the Author
Jessica Radloff is the Senior West Coast Editor at Glamour. She joined the brand in 2011 as West Coast entertainment correspondent before becoming West Coast Editor. She regularly appears on Access Hollywood, The Talk, Good Morning America, TODAY, and more on behalf of the brand. 

Prior to Glamour, she wrote for AOL, The Huffington Post, Modern Luxury Media, WHERE Los Angeles, and Major League Baseball's St. Louis Cardinals GameDay magazine. She is a member of the Television Critics Association, the Critic's Choice Association, and Screen Actors Guild. She is also an Associate Member of the Television Academy.