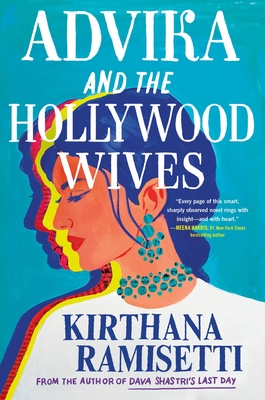 Advika and the Hollywood Wives
Hardcover

* Individual store prices may vary.
Description
Advika Srinivasan never thought she'd be someone's fourth wife, let alone the new wife of Julian Zelding, one of Hollywood's most renowned film producers—a gripping tale of marriage, ambition, and power from the author of GMA Book Club pick Dava Shastri's Last Day. 
At age 26, Advika Srinivasan considers herself a failed screenwriter. To pay the bills and keep her mind off of the recent death of her twin sister, she's taken to bartending A-list events, including the 2015 Governors Ball, the official afterparty of the Oscars. There, in a cinematic dream come true, she meets the legendary Julian Zelding—a film producer as handsome as Paul Newman and ten times as powerful—fresh off his fifth best picture win. Despite their 41-year age difference, Advika falls helplessly under his spell, and their evening flirtation ignites into a whirlwind courtship and elopement. Advika is enthralled by Julian's charm and luxurious lifestyle, but while Julian loves to talk about his famous friends and achievements, he smoothly changes the subject whenever his previous relationships come up. Then, a month into their marriage, Julian's first wife—the famous actress Evie Lockhart—dies, and a tabloid reports a shocking stipulation in her will. A single film reel and $1,000,000 will be bequeathed to "Julian's latest child bride" on one condition: Advika must divorce him first.
Real Housewives-esque reality show, Advika starts to realize how little she knows about her husband. Realizing she rushed into the marriage for all the wrong reasons, Advika uses the info gleaned from the lives of her husband's exes to concoct a plan to extricate herself from Julian once and for all.
Shaken out of her love fog and still-simmering grief over the loss of her sister—and uneasy about Julian's sudden, inexplicable urge to start a family—Advika decides to investigate him through the eyes and experiences of his exes. From reading his first wife's biography, to listening to his second wife's confessional albums, to watching his third wife's 
Praise For Advika and the Hollywood Wives…
"A rich portrait of a family facing their powerful matriarch's death,
Dava Shastri's Last Day
is full of music, magnetism, and familial obligation. If 
Succession 
were about a multicultural family who actually loved each other, it might look like this."—
Emma Straub, Author of All Adults Here, Praise for Dava Shastri's Last Day
"Ramisetti beautifully weaves keen analysis of celebrity culture and a deep love of music into this perceptive, intergenerational story of resentment, trauma, love, and redemption. A page-turner with humor, heart, and lots of pop music."—
Jennifer Keishin Armstrong, New York Times bestselling author of Seinfeldia, Praise for Dava Shastri's Last Day
"Kirthana Ramisetti has written a sweeping saga and also a poignant story about sacrifice and the exacting price of secrecy. Cinematic and intimate, 
Dava Shastri's Last Day 
is an intricate story about family and love."—
Devi S. Laskar, Author of The Atlas of Reds and Blues, Praise for Dava Shastri's Last Day
"Dava Shastri's Last Day is a story about ambition and greatness, wealth and family, full of secrets, love, and music, and those eternal pop song complements: heartbreak and hope. It's a gripping, deeply satisfying story about one woman's tremendous life—and the infinitely complicated ways we create our own legacies."
—
Kate Racculia, Author of Tuesday Mooney Talks to Ghosts and Bellweather Rhapsody, Praise for Dava Shastri's Last Day
"Ramisetti draws nuanced characters who are introspective and entertaining."—
Kirkus, Praise for Dava Shastri's Last Day
Grand Central Publishing, 9781538709276, 384pp.
Publication Date: April 11, 2023
About the Author
Kirthana Ramisetti earned her MFA in creative writing from Emerson College, and has had her work published in the New York Times,The Wall Street Journal, Entertainment Weekly,The Atlantic and more. Her debut novel, Dava Shastri's Last Day, was publishedin 2021. She lives with her husband in New York City.