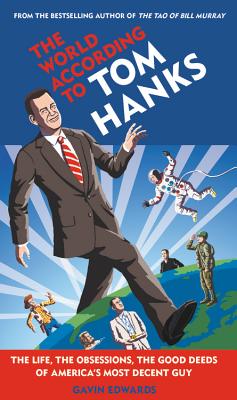 The World According to Tom Hanks (Hardcover)
The Life, the Obsessions, the Good Deeds of America's Most Decent Guy
Grand Central Publishing, 9781538712207, 368pp.
Publication Date: October 23, 2018
* Individual store prices may vary.
Description
An entertaining and insightful homage to Tom Hanks, America's favorite movie star, from the New York Times bestselling author of the cult sensation The Tao of Bill Murray.

In The World According to Tom Hanks, through deep research and interviews, Gavin Edwards will explore and celebrate how Tom Hanks lives his life, mirroring the way that he embodies optimism and integrity in his movie roles. This book, paired with original illustrations from acclaimed illustrator R. Sikoryak, will give insight into the actor by collecting the best stories about how he behaves in the world, providing a loving retrospective of his film career, and putting it all into the context of his all-American philosophy.

About the Author
Gavin Edwards is the New York Times bestselling author of nine books, including The Tao of Bill Murray, Last Night at the Viper Room, Can I Say (written with Travis Barker), VJ (written with the original MTV VJs), and 'Scuse Me While I Kiss This Guy. As a longtime contributing editor for Rolling Stone, he has written a dozen cover stories for the magazine, traveled the world from Bahrain to New Zealand, and taken a city bus to the Grammys. He lives in Charlotte, North Carolina, with his wife and their two sons.
Praise For The World According to Tom Hanks: The Life, the Obsessions, the Good Deeds of America's Most Decent Guy…
"If there is a new Mr. Rogers in our culture, it's got to be Tom Hanks: honest, decent, trustworthy. Gavin Edwards's book taps into what makes Hanks someone we love and someone we should emulate."—Morgan Neville, director of Won't You Be My Neighbor?

"There have been greater, weightier testaments to the art of cinema published in 2016 . . . but for sheer dopamine release, [The Tao of Bill Murray is] hard to beat."—The New York Times Book Review