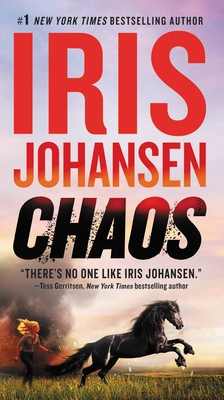 Chaos
Mass Market

* Individual store prices may vary.
Other Editions of This Title:
Digital Audiobook (8/31/2020)
Hardcover (9/1/2020)
Hardcover, Large Print (9/1/2020)
CD-Audio (9/1/2020)
Description
In this high-stakes thriller, a #1 New York Times bestselling author introduces CIA agent Alisa Flynn, who is willing to go rogue if it means catching the most heartless band of criminals she's ever encountered.

When CIA agent Alisa Flynn flaunts the rules by breaking into a mansion in the middle of the night, she skillfully circumvents alarms and outwits guards only to find herself standing in billionaire Gabe Korgan's study . . . busted by Korgan himself. This could cost her her job unless, in a split second, she can turn the tables and try to convince him to join her on the most important mission of her life.

In a ripped-from-the-headlines plot, schoolgirls in Africa have been kidnapped, and Alisa knows that Korgan has the courage, financial means, and high-tech weaponry to help rescue them. With so many innocent lives hanging in the balance, what she doesn't reveal is that one of those schoolgirls is like a little sister to her. But when the truth gets out, the stakes grow even higher.

Calling in additional assistance from renowned horse whisperer Margaret Douglas, Alisa and Gabe lay their plans, only to see them descend into chaos as the line between right and wrong wavers before them like a mirage. Every path is strewn with pitfalls, each likely to get them—or the hostages—killed. But with the help of a brave team and a horse with the heart of a warrior, they might just get out of this alive.
Praise For Chaos…
"The
wildly over-the-top characters and plot race toward a fittingly extravagant
conclusion. Johansen's fans will be in heaven."—Publishers Weekly

"Though Flynn is a new star in Johansen's pantheon, her personification of familiar tropes of female strength, power, sexual attraction, and supernatural talents will make her an instant hit with Johansen's many loyal fans."—Booklist

"The characters are refreshing and new and the story is thrilling for the reader to follow along, especially if this is your first time reading an Iris book."—RedCarpetCrash.com

Chaos is what author Iris Johansen creates so easily - a book filled with conflict, danger, a touch of romance when it is least expected by the couple, with elements ripped from the very headlines. In other words, a book that is really, really hard to put down... Looking for action, danger, drama, romance, surprises, secrets, with even more totally unexpected twists and turns? Then Chaos is what you need in your hands!—FreshFiction.com

"I absolutely loved the slow-burn development of Alisa and Korgan's relationship... I felt so emotionally invested in them, and their exchanges will keep you on the edge of your seat. Johansen knows how to write wonderfully crafted characters and dialogue."—BookReporter.com

"Dive into the explosive world of Iris Johansen, where villains get exactly what they deserve and the good guys -- eventually -- win the day. That's a world I want to live in!"—Tami Hoag, #1 New York Times bestselling author

"Johansen keeps readers on the edge of their seats."—Booklist

"Just by seeing the Iris Johansen name....you know [it] will be an explosive, unforgettable story."—Suspense Magazine

"Johansen never ceases
to inspire, shock, reveal and unveil secrets, and draw you into a story from
beginning to end."—Suspense Magazine
Grand Central Publishing, 9781538713143, 464pp.
Publication Date: May 25, 2021
About the Author
Iris Johansen is the #1 New York Times bestselling author of more than 30 consecutive bestsellers. Her series featuring forensic sculptor Eve Duncan has sold over 20 million copies and counting and was the subject of the acclaimed Lifetime movie, The Killing Game. Along with her son Roy, Iris has also co-authored the New York Times bestselling series featuring investigator Kendra Michaels. Johansen lives near Atlanta, Georgia.