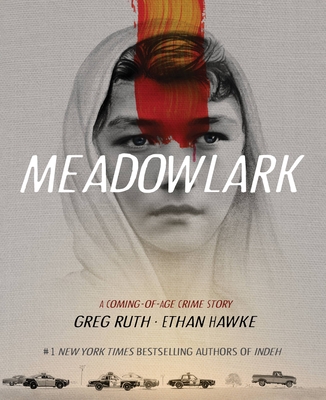 Meadowlark
A Coming-of-Age Crime Story
Hardcover

* Individual store prices may vary.
Description
From the dream team behind #1 New York Times bestseller Indeh comes a graphic novel following a father and son as they navigate an increasingly catastrophic day.
Set against the quiet and unassuming city of Huntsville, Texas, Jack "Meadowlark" Johnson, and his teenage son, Cooper embark on a journey of epic proportions. Told over the course a single day, this electrifying graphic novel recounts Cooper's struggle to survive the consequences of his father's mistakes and the dangers they have brought home to his estranged family. As Cooper and his father desperately navigate cascading threats of violence, they must also grapple with their own combative, dysfunctional, but loving relationship.
Drawing on inspiration from the authors' childhoods in Texas, their relationships with their own sons and from ancient myths that resonate throughout the ages, this contemporary crime noir is a propulsive coming-of-age tale of the shattering transition into manhood. While both father and son strive to understand their place in the world and each other's lives, tension and resentment threaten to boil over. As emotionally evocative as it is visually stunning, this captivating graphic novel will appeal to fans of Cormac McCarthy's
No Country for Old Men
and Terrence Malick's
Badlands
.
Praise For Meadowlark: A Coming-of-Age Crime Story…
"Neatly balancing pulpy thrills with well-observed father-son dynamics, this is a genre tale that punches above its weight."—Publishers Weekly

"An emotionally complex hard-boiled thriller."—Library Journal

"One of the best graphic novels I've ever read. A gorgeously illustrated father-son thriller steeped in brutal violence and ever-escalating human emotion. An overpowering experience that left me as shaken, provoked and fulfilled as the best works of Cormac McCarthy."—Scott Derrickson, director of Dr. Strange

"The heartbreaking story of manhood and filial panic would've been enough. The atmospheric impressions of movement and violence in the images would've been enough. But it is their combination that sends Meadowlark into the realm of myth."—Jason Blum, producer

"A gorgeously touching, smoldering gut punch and an absolute tour de force. Meadowlark is one for the ages. It transcends genre and expands the form of the graphic novel. It's one of those artistic gifts that's going to keep on giving—and influencing creators—for decades to come." —Bill Sienkiewcz, writer/artist of Stray Toasters
Grand Central Publishing, 9781538714577, 256pp.
Publication Date: August 10, 2021
About the Author
Ethan Hawke's first graphic novel with illustrator Greg Ruth, Indeh, debuted at #1 on the New York Times bestseller list in 2016. His other literary works include New York Times bestsellers Rules for a Knight, Ash Wednesday, and The Hottest State. He has also acted in more than fifty films and is the director of three feature films and one documentary. He is a four-time Academy Award nominee.
Greg Ruth is the New York Times bestselling author/illustrator of The Lost Boy and Indeh and has been making books and comics since 1993. Greg has also created music videos for both Prince and Rob Thomas and children's picture books including Pure Enduring Spirit (with Barack Obama), Red Kite, Blue Kite (with Ji Li Jiang), A Pirate's Guide to First Grade (with James Preller), and his latest from Feiwel & Friends entitled Coming Home. His comics work includes Sudden Gravity, Freaks of the Heartland, Conan: Born on the Battlefield, The Matrix, and Goosebumps. He lives and works in Western Massachusetts.