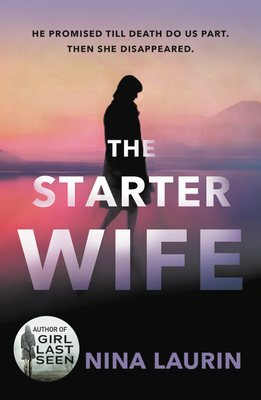 The Starter Wife (Paperback)
Grand Central Publishing, 9781538715710, 352pp.
Publication Date: June 11, 2019
Other Editions of This Title:
Compact Disc (6/11/2019)
Compact Disc (6/11/2019)
* Individual store prices may vary.
Description
From the bestselling author of Girl Last Seen comes "a spine-tingler" (Booklist) of a psychological suspense, perfect for fans of Lisa Jewell and Jessica Knoll.
Local police have announced that they're closing the investigation of the suspected drowning of 37-year-old painter Colleen Westcott. She disappeared on April 11, 2010, and her car was found parked near the waterfront in Cleveland two days later, but her body has never been found. The chief of police has stated that no concrete evidence of foul play has been discovered in the probe.
I close the online search window, annoyed. These articles never have enough detail. They think my husband's first wife disappeared or they think she is dead. There's a big difference.
My phone rings, jarring me away from my thoughts, and when I pick it up, it's an unknown number. The only answer to my slightly breathless
hello
is empty static.
When the voice does finally come, it's female, low, muffled somehow. "Where is it, Claire? What did you do with it? Tell me where it is."
A woman. A real flesh-and-blood woman on the other end of the phone. She's not just in my
head
.
A wave of panic spreads under my skin like ice water. It's Colleen.
"Laurin knows how to ratchet up the suspense." --Publishers Weekly
About the Author
Nina Laurin studied Creative Writing at Concordia University in Montreal, where she currently lives. She arrived there when she was just twelve years old, and she speaks and reads in Russian, French, and English but writes her novels in English. She wrote her first novel while getting her writing degree, and Girl Last Seen was a bestseller a year later in 2017. The follow-up, What My Sister Knew, came out in summer 2018 to critical acclaim. Nina is fascinated by the darker side of mundane things, and she's always on the lookout for her next twisted book idea. She blogs about books and writing on her own site, thrillerina.wordpress.com.
Praise For The Starter Wife…
"Laurin, with her knack for psychological suspense, here portrays the effects of obsession in chilling detail as the facts of Claire's life are revealed. A spine-tingler."
—
Booklist
"Laurin knows how to ratchet up the suspense."—
Publishers Weekly
"Nina Laurin's psychological suspense thrill ride will have you ripping through its pages at warp speed as you dig for the truth about a fateful event that drove two twin siblings apart."—
PopSugar.com on What My Sister Knew
"An intense psychological thriller that has a surprise twist... Laurin provides an insightful look at how secrets can shatter a bond between twins."—
Publishers Weekly on What My Sister Knew
"A twisty, mind-bending thriller that will keep you on the edge of your seat as she probes the bond and secrets between twins."—
USAToday.com on What My Sister Knew
"There are an abundance of suspense/thriller writers, but none is better than Nina Laurin at fooling the reader as her plotline takes numerous 90-degree turns while she builds suspense one red herring at a time."—
NYJournalof Books.com on What My Sister Knew
"One of the best things a novel can do is keep you guessing, and Nina Laurin's sophomore effort does exactly that.
What My Sister Knew
is a rich, complex story about the effects of secrets, the lingering consequences of abuse, the inner workings of deeply troubled households, filial love, and the way we are shaped by trauma."—
CriminalElement.com on What My Sister Knew