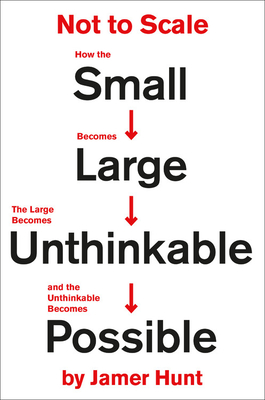 Not to Scale
How the Small Becomes Large, the Large Becomes Unthinkable, and the Unthinkable Becomes Possible
Hardcover

* Individual store prices may vary.
Other Editions of This Title:
Digital Audiobook (3/2/2020)
Description
From small decisions that paralyze us to big data that knows everything about us, Not to Scale is a thought-provoking guide to navigating the surprising complexities of a networked age when the things that are now shaping experience have no weight or size.

The dictionary defines "scale" as a range of numbers, used as a system to measure or compare things. We use this concept in every aspect of our lives-it is essential to innovation, helps us weigh options, and shapes our understanding of the impact of our actions.

In Not to Scale, Jamer Hunt investigates the complications of scale in the digital age, highlighting an interesting paradox: We now have a world of information at our fingertips, yet ironically the more informed we have become, the more overwhelmed we feel. The global effects of our daily choices (Paper or plastic? Own or lease? Shop local or buy online?) remain difficult for us to comprehend, and solutions to large-scale national and international issues feel inconceivable.

Hunt explains how these challenges are intimately tied to a new logic of scale and provides readers with survival skills for the twenty-first century. By taking massive problems and shrinking them down to size, we can use scale to effect positive change and adapt to the modern era. Connecting our smallest decisions to the grand scheme of things, Not to Scale is a fascinating and empowering guide to comprehending and navigating the high stakes often obscured from our view.
Praise For Not to Scale: How the Small Becomes Large, the Large Becomes Unthinkable, and the Unthinkable Becomes Possible…
"This
incredibly insightful book was a revelation that got my brain cells dancing.
What a delight! Jamer Hunt's captivating stories of the power of scale provides
exploding breakthrough clarity that we could all benefit from."
—
Bruce Nussbaum, Mentor-in-residence, NEW INC., former columnist, Businessweek and Fast Company
"Jamer Hunt suggests possible tactics for us all to embrace and
master ambiguity and complexity. Rigged with dangerous revelations about the
limits of human understanding but also rich with faith in human ingenuity and adaptability, Hunt's
book is wise, entertaining, and hopeful, a gift for all of us engaged in
constructing a better present and future."
—
Paola Antonelli, Senior Curator of Architecture &Design and Director of Research & Development at the Museum of Modern Art
Grand Central Publishing, 9781538715888, 272pp.
Publication Date: March 3, 2020
About the Author
Jamer Hunt is the Vice Provost for Transdisciplinary Initiatives at The New School, and was founding director of the graduate program of Transdisciplinary Design at Parsons School of Design. He co-founded DesignPhiledelphia, the country's largest design week, and has published over two dozen articles for platforms such as Huffington Post. Named by Fast Company on their list of the "Most Creative People," he uses his unique background to give life a new perspective.