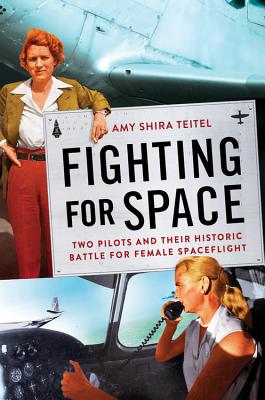 Fighting for Space
Two Pilots and Their Historic Battle for Female Spaceflight
Hardcover

* Individual store prices may vary.
Other Editions of This Title:
Digital Audiobook (2/17/2020)
Paperback (2/16/2021)
CD-Audio (2/25/2020)
Description
Spaceflight historian Amy Shira Teitel tells the riveting story of the female pilots who each dreamed of being the first American woman in space.

When the space age dawned in the late 1950s, Jackie Cochran held more propeller and jet flying records than any pilot of the twentieth century—man or woman. She had led the Women's Auxiliary Service Pilots during the Second World War, was the first woman to break the sound barrier, ran her own luxury cosmetics company, and counted multiple presidents among her personal friends. She was more qualified than any woman in the world to make the leap from atmosphere to orbit. Yet it was Jerrie Cobb, twenty-five years Jackie's junior and a record-holding pilot in her own right, who finagled her way into taking the same medical tests as the Mercury astronauts. The prospect of flying in space quickly became her obsession.

While the American and international media spun the shocking story of a "woman astronaut" program, Jackie and Jerrie struggled to gain control of the narrative, each hoping to turn the rumored program into their own ideal reality—an issue that ultimately went all the way to Congress.

This dual biography of audacious trailblazers Jackie Cochran and Jerrie Cobb presents these fascinating and fearless women in all their glory and grit, using their stories as guides through the shifting social, political, and technical landscape of the time.
Praise For Fighting for Space: Two Pilots and Their Historic Battle for Female Spaceflight…
"Breathtaking...If you
come to this book without any knowledge of the nascent days of spaceflight,
Teitel's writing will immediately immerse you in this foreign landscape, making
you feel like you're experiencing the personal journeys of these remarkable
characters right alongside them. If you do have a knowledge of many of the
events, her writing will likely only deepen whatever your opinion was going
into the story."—Forbes

"Cleverly intertwines
the stories of two women pilots...Teitel allows us to feel personally engaged
with two fascinating characters who each made pretty quirky decisions...A
remarkable story."—Medium

"Deftly crafted...Fighting for Space ably and informatively showcases this pair of inherently fascinating and absolutely fearless women using their life stories as guides through the every shifting social, political, and technical landscapes of their time."—Midwest Book Review

"In this smart, fun, compelling, and
deeply researched book, Teitel tells the tale of Jackie Cochran and Jerrie Cobb,
who scrapped with each other and, more important, with a blinkered,
male-dominated space agency, for their chance to be among the first humans to
leave the planet. It's a story of ambition, talent, gender equality, and of a
media frenzy that seems more twenty-first century than 1950s. Teitel's prose is
as infectious as the space-history videos that have made her a YouTube sensation,
and she has picked a story that must have been a delight to write. It's
certainly a delight to read."—Jeff Kluger, author of Apollo8 and coauthor of Apollo 13 with Jim Lovell

"History is
often not as simple as it seems. In the case of Jackie Cochran and Jerrie Cobb,
this book offers a revealing insight on two characters we thought we knew but
didn't. From different generations and with profoundly different but equally
dogged motivations, these two pilots crossed paths and fought battles in the new
world of women pushing for a place in the air, and perhaps even in space. Amy
Shira Teitel digs beneath the stories to reveal motivations that are not always
as straightforward and admirable as other accounts suggest. A wealth of
original research reminds us that people are complex, and sometimes it is those
complexities that allow them to get as far as they do in the pursuit of
enormous goals-or hold them back."—Francis French, author of In the Shadow of the Moon

"Spaceflight
historian Teitel took a deep dive into a host of public records to craft this
dual biography of Cochran and Cobb, creating a firm portrait of two driven and
determined individuals."—Booklist
Grand Central Publishing, 9781538716045, 448pp.
Publication Date: February 18, 2020
About the Author
Amy Shira Teitelis a spaceflight historian, author, and public speaker who, much like her subjects, is one of the few academically trained young women in her field. She earned a bachelor's degree with combined honors in history of science and technology and classics as well as a master's in science and technology studies before leaving academia for popular science writing. She has since written for more than two dozen websites including the BBC and Time magazine online, earned a Group Achievement Award from NASA as part of the New Horizons mission to Pluto team, and appears frequently as an expert interviewee in a number of TV shows and documentaries. She also maintains her blog, Vintage Space, and its companion YouTube channel.
or
Not Currently Available for Direct Purchase