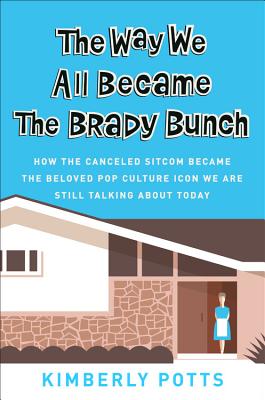 The Way We All Became The Brady Bunch
How the Canceled Sitcom Became the Beloved Pop Culture Icon We Are Still Talking About Today
Hardcover

* Individual store prices may vary.
Other Editions of This Title:
Digital Audiobook (12/2/2019)
Compact Disc (12/3/2019)
Compact Disc (12/3/2019)
Description
In celebration of the Brady Bunch's 50th anniversary, TV writer Kimberly Potts writes a Seinfeldia-like definitive history of the show that changed the family sitcom and made an indelible impact on pop culture.

There isn't a person in this country who hasn't heard of The Brady Bunch. Whether it's the show they watched growing up, or the one their parents did--whether adored, or great to poke fun at--The Brady Bunch is unarguably one of the most enduring and inspiring TV shows of our time. It's lived a dozen lives, from its original comedy debut and big-screen movies, to the Emmy-winning TV auteurs it has inspired--everyone from Vince Gilligan to Jill Soloway--and promises to live many more.

In The Way We All Became the Brady Bunch, TV and pop culture writer Kimberly Potts will draw upon her deep knowledge of and appreciation for The Brady Bunch and television and pop culture history, as well as her contacts, connections, and experience, to provide an industry insider narrative of The Brady Bunch. With fresh interviews, The Way We All Became the Brady Bunch will examine the show's lasting effects on its audience and take readers behind-the-scenes and into the lives of our most beloved characters, all to document why The Brady Bunch was one of the most groundbreaking shows of its time--and why it remains to this day, unforgettable.
Praise For The Way We All Became The Brady Bunch: How the Canceled Sitcom Became the Beloved Pop Culture Icon We Are Still Talking About Today…
"Pott's book both entertains and educates, dropping numerous pearls of wisdom about why the Brady's mattered then. . . and now."—Yahoo! Entertainment

"There is still more to know about [The Brady Bunch] -- as revealed by author Kimberly Potts."—Closer Weekly

"An all-purpose guide to all things Brady."—Flavorwire

"Kimberly Potts brings a sophisticated, streaming-era perspective to one of the great mysteries of our time: How did a simplistic, sweet, widely disrespected TV show like The Brady Bunch become a formative influence on some of our greatest Gen X pop culture figures, including Breaking Bad creator Vince Gilligan, First Lady Michelle Obama, and parody genius Weird Al? Through behind-the-scenes stories and analysis, Potts takes the Brady phenomenon seriously and shows that no matter who we are, we're all looking for a happy TV family to call our own."—Jennifer Keishin Armstrong, New York Times bestselling author of Seinfeldia and Sex and the City and Us

"Growing up in a family with six children, I can think of no other show that embodies my childhood and my relationship with television more than The Brady Bunch. Kimberly Potts captures some of that Brady Bunch magic in this great book."—Jim Gaffigan, Emmy-winning comedian and New York Times bestselling author of Dad is Fat and Food: A Love Story

"Mom always said, 'Don't play ball in the house.' I say, 'If you remember that line, you need to read this book.'"—Gavin Edwards, New York Times bestselling author of The Tao of Bill Murray
Grand Central Publishing, 9781538716618, 288pp.
Publication Date: December 3, 2019
About the Author
Kimberly Potts is a television and pop culture writer with a prolific career spanning more than 20 years, with features written for The Hollywood Reporter, Vulture, TV Guide, Esquire.com, Los Angeles Times, The Wrap, and so on.

She currently covers the number one sitcom on TV, The Big Bang Theory, for Vulture.com, and recently spent several seasons covering the number one cable drama on TV, The Walking Dead, for Yahoo TV. She's written oral histories of Deadwood and BreakingBad, think pieces defending the polarizing series finales of Seinfeld and TheSopranos, and created weekly beat coverage, features, interviews, and recaps of TV comedies, dramas, and reality series, including OrangeIstheNewBlack, BatesMotel, GilmoreGirls, BetterCallSaul, TheAmericans, Gossip Girl, and DancingwiththeStars.