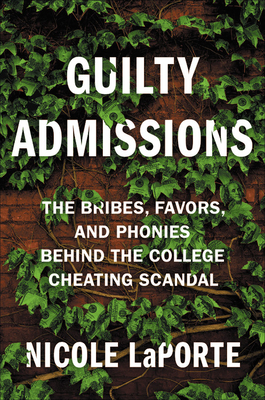 Guilty Admissions
The Bribes, Favors, and Phonies behind the College Cheating Scandal
Hardcover

* Individual store prices may vary.
Other Editions of This Title:
Digital Audiobook (2/22/2021)
Compact Disc (2/23/2021)
Description
This entertaining exposé on how the other half gets in tells the shockingly true story of the Varsity Blues scandal, and all of the crazy parents, privilege, and con men involved.

Guilty Admissions weaves together the story of an unscrupulous college counselor named Rick Singer, and how he preyed on the desperation of some of the country's wealthiest families living in a world defined by fierce competition, who function under constant pressure to get into the "right" schools, starting with pre-school; non-stop fundraising and donation demands in the form of multi-million-dollar galas and private parties; and a community of deeply insecure parents who will do anything to get their kids into name-brand colleges in order to maintain their own A-list status.

Investigative reporter Nicole LaPorte lays bare the source of this insecurity—that in 2019, no special "hook" in the form of legacy status, athletic talent, or financial giving can guarantee a child's entrance into an elite school. The result is paranoia, deception, and true crimes at the peak of the American social pyramid.

With a glittering cast of Hollywood actors—including Felicity Huffman and Lori Loughlin—hedge fund CEOs, sales executives, and media titans, Guilty Admissions is a soap-opera-slash-sneak-peek-behind-the-curtains at America's richest social circles; an examination of the cutthroat world of college admissions; and a parable of American society in 2019, when the country is run by a crass tycoon and all totems of status and achievement have become transactional and removed from traditions of ethical restraint.

A world where the rich get whatever they want, however they want it.
Praise For Guilty Admissions: The Bribes, Favors, and Phonies behind the College Cheating Scandal…
"LaPorte's account of the Varsity Blues college admissions case sheds lurid light on the measures some families will take to protect their privilege." —
The New York Times
"In this captivating investigation, reporter Nicole LaPorte exposes the systemic inequality, admissions chaos, and status anxiety that let a breathtakingly unscrupulous former coach run plays on some of the top schools in America. With rigorous reporting and deft storytelling, LaPorte illustrates how these outrageous 'side-door' schemes became just another perk available to the ultra-privileged."
—
Ada Calhoun, author of Why We Can't Sleep
"Fish rot from the head down. In the chronicle of the corruption of the American elite (and the betrayal of the country that elite is meant to lead), the college bribery scandal represents an especially appalling—and revealing—chapter. In GUILTY ADMISSIONS, Nicole LaPorte, writes that chapter with insight and verve. She not only gives us the jaw-dropping details, she also conveys their larger context: the sociology of a gilded class of Southern Californians for whom enough is never enough and of the schools and colleges whose own corruptions they exploit."
—
Bill Deresiewicz, best-selling author of Excellent Sheep and The Death of the Artist
"We'd like to think that everyone has a fair shot at getting into their preferred college, that springboard to capturing the American Dream. The college admissions scandal proved that isn't close to being the case. In GUILTY ADMISSIONS, Nicole LaPorte artfully captures this fallacy, while exposing a labyrinth of those consumed by celebrity, greed, and class who will stop at nothing to transfer their privilege to their lineage one transaction at a time."
 —
Jonathan Abrams, the New York Times
"It's a mind-blower, but author Nicole LaPorte deftly charts a course through today's obstacle course of college applications in her fascinating expose of Rick Singer and the so-called 'Varsity Blues' scandal."—
New York Journal of Books"
GUILTY ADMISSIONS is about excessive privilege and the lengths to which parents will go when that privilege is threatened, in real or imagined ways." —
Vanity Fair
"[A] riveting rundown of Operation Varsity Blues...Readers will be captivated by this entertaining look behind the headlines."—
Publishers Weekly
"An engaging tale of the lifestyles of the rich-and-felonious parents of college-bound students. [GUILTY ADMISSIONS is] a lively, soap-operatic account of the Operation Varsity Blues college admissions scandal that led to charges against more than 50 celebrities and other high rollers." —
Kirkus
Twelve, 9781538717097, 352pp.
Publication Date: February 23, 2021
About the Author
Nicole LaPorte is an LA-based senior writer for Fast Company. She previously was a columnist for The New York Times and a staff writer for Newsweek, The Daily Beast, and Variety. She is the author of The Men Who Would Be King: Movies, Moguls, and a Company Called Dreamworks.