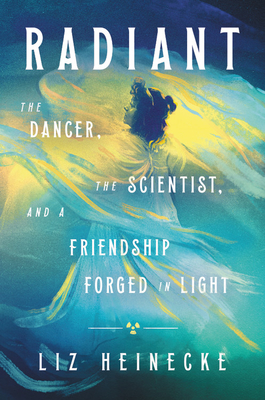 Radiant
The Dancer, The Scientist, and a Friendship Forged in Light
Hardcover

* Individual store prices may vary.
Other Editions of This Title:
Compact Disc (2/16/2021)
Description
Part hidden history, part love letter to creative innovation, this is the true story of an unlikely friendship between a dancer, Loie Fuller, and a scientist, Marie Curie, brought together by an illuminating discovery.
 At the turn of the century, Paris was a hotbed of creativity. Technology boomed, delivering to the world electric light, the automobile, and new ways to treat disease, while imagination blossomed, creating Art Nouveau, motion pictures, and modernist literature. A pivotal figure during this time, yet largely forgotten today, Loie Fuller was an American performance artist who became a living symbol of the Art Nouveau movement with her hypnotic dances and stunning theatrical effects. Credited today as the pioneer of modern dance, she was perennially broke, never took no for an answer, spent most of her life with a female partner, and never questioned her drive. She was a visionary, a renegade, and a loyal friend. In the early 1900s, she heard about Marie Curie's discovery of a glowing blue element and dreamed of using it to dazzle audiences on stage. While Loie's dream wouldn't be realized, her connection with Marie and their shared fascination with radium endured. Radiant is the true story of Marie Curie and Loie Fuller, two revolutionary women drawn together at the dawn of a new era by a singular discovery, and the lifelong friendship that grew out of their shared passion for enlightenment.
Praise For Radiant: The Dancer, The Scientist, and a Friendship Forged in Light…
"Radiant is the story of an unlikely friendship between two boundary-breaking women, each determined to bring some light into a dark world. A remarkable tale of science and art, beauty and loss, the power of the mind and the frailty of the body. Luminous."—Emily Anthes, Award-winning author of The Great Indoors

"Written at the vibrant intersection of science and art, Radiant details the fascinating lives of Marie Curie and Loïe Fuller. Both of these extraordinary women pursued their research with creativity and persistence, imagining radical new possibilities in their respective fields of chemistry and dance. Liz Heinecke's delightful book stages the story of their lively friendship within the proscenium frame of Belle Époque Paris."—Ann Cooper Albright, author of Traces of Light: Absence and Presence in the Work of Loïe Fuller

"[E]xtensive bibliographic notes attest to the factual foundation supporting this irresistible, dramatic, many-faceted, and, yes, illuminating tale of two extraordinary geniuses and their friendship. Heinecke's fresh take on Curie is welcome, and her portrayal of the too-little-known Fuller is revelatory."—Booklist, starred review

"A unique, satisfying biography/creative nonfiction hybrid that celebrates the achievements of two women who revolutionized the artistic and scientific worlds."—Kirkus Reviews

"With rich evocations of Belle Époque Paris and accessible introductions to the era's artistic and scientific breakthroughs, this inspirational portrait of two trailblazing women soars."—Publishers Weekly

"Liz Heinecke has captured [Curie and Fuller's] lives, their times, and their friendship in a beautifully crafted work of creative nonfiction as gripping as any novel of Belle Epoch Paris."—New York Journal of Books

"Radiant is the absorbing story of two women moving through one another's orbits on the edge of their own singular legacies. In this fascinating story, Heinecke illuminates the individual work of Fuller and Curie along with their shared connection, leaving the reader with a sense of the fighting spirit they both held for their work, the people they loved, and life itself."—Amelia Gray, author of Isadora

"Radiant is an apt name for this book that illuminates subjects ranging from history to science and most especially, the lives and friendship of Loie Fuller and Marie Curie, two women who refused to let their genius and passion be thwarted by societal norms. An engaging, enlightening, and thoroughly entertaining read."—Lorna Landvik, bestselling author of Chronicles of a Radical Hag (with Recipes)

"Radiant is an uplifting story of discovery and friendship. Grounded in scientific and historical research, Liz Heinecke's book evokes the brilliance of Paris in the Belle Époque and delivers a timely reminder that even frustrated hope can produce enduring fulfillment."—Michael Joseph Gross, contributing editor, Vanity Fair

"In her imaginative and immersive dual biography Radiant: The Dancer, the Scientist, and a Friendship Forged in Light, Minneapolis writer Liz Heinecke explores the unexpected friendship that arises between these two iconic women. . . [A] true account that reads as fluidly as a novel."—Minneapolis Star Tribune

"Heinecke beautifully explores the inspiring true story of the friendship between dancer Loie Fuller and scientist Marie Curie."—E! Online

"Liz Heinecke's Radiant is a fascinating, exhaustively researched story about two women, scientist Marie Curie, and dancer Loie Fuller at the beginning of the 20th century in Paris. Both women broke through impossibly thick glass ceilings to become celebrated innovators. The two meet and an unlikely friendship is forged by both women's fascination with the possibilities of light. Radiant reads like a novel that you can't put down due to Heinecke's impressive prose and a gift for storytelling. I love this book."—Laurie Lindeen, essayist and author of Petal Pusher

"Enchanting and informative, Radiant brings to light two critical figures at the turn of the 20th century: the world's first important female scientist, two-time Nobel-prize winner Marie Curie, and the mother of modern dance, Loie Fuller. This is a story of innovation and tenacity, beautifully conveyed by Liz Heinecke and chock full of scientific tidbits. Read this illuminating book, and you'll encounter Thomas Edison and Albert Einstein, and you'll understand why Marie Curie is one of our greatest scientists, why movie theaters are dark, and why you should travel (again) to Paris."—Dr. David Schneider, author of The Invention of Surgery

"Liz Heinecke expertly weaves the remarkable stories of two breathtakingly original women, Marie Curie and Loïe Fuller, into a superb book. Both women disrupted expectations and forged new paths in their fields and their friendship reveals the powerful connection between art and science at the turn of the 20th century. Radiant is compelling and vibrant."—Zeva Oelbaum, co-director of Obsessed with Light
Grand Central Publishing, 9781538717363, 336pp.
Publication Date: February 16, 2021
About the Author
Liz Heinecke has an undergraduate degree in art from Luther College, a master's degree in bacteriology from UW Madison and worked as an academic molecular biology researcher before starting her wildly successful online educational platform KitchenPantryScientist.com. She has written seven books teaching kids (and their parents) how to perform simple science experiments at home, including two which pair science experiments with history lessons about scientists. She is a regular fixture on local TV morning shows including CBS and ABC, and frequently makes appearances for library programs, and at STEM, STEAM and tech festivals. Between experiments and writing, Liz paints, sings, and plays the banjo. She lives in Minneapolis, MN.