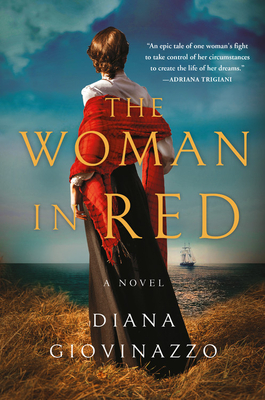 The Woman in Red
Hardcover

* Individual store prices may vary.
Other Editions of This Title:
Compact Disc (8/4/2020)
Description
Experience the "epic tale of one woman's fight . . . to create the life of her dreams" in this sweeping novel of Anita Garibaldi, a 19th century Brazilian revolutionary who loved as fiercely as she fought for freedom (Adriana Trigiani).
Destiny toys with us all, but Anita Garibaldi is a force to be reckoned with. Forced into marriage at a young age, Anita feels trapped in a union she does not want. But when she meets the leader of the Brazilian resistance, Giuseppe Garibaldi, in 1839, everything changes.
Swept into a passionate affair with the idolized mercenary, Anita's life is suddenly consumed by the plight to liberate Southern Brazil from Portugal -- a struggle that would cost thousands of lives and span almost ten bloody years. Little did she know that this first taste of revolution would lead her to cross oceans, traverse continents, and alter the course of her entire life -- and the world.
At once an exhilarating adventure and an unforgettable love story, The Woman in Red is a sweeping, illuminating tale of the feminist icon who became one of the most revered historical figures of South America and Italy.
Praise For The Woman in Red…
"The Woman in Red is an epic tale of one woman's fight to take control of her circumstances to create the life of her dreams. Anita Garibaldi is a modern woman in the 19th century who led with her heart despite circumstances so dire, most mortals would give up. Her passionate affair with Giuseppe Garibaldi freed her from a provincial life into one of passion, danger and purpose. Ms. Giovinazzo has crafted a spectacular story in this stunning debut."
—
Adriana Trigiani, New York Times bestselling author of Tony's Wife
"Anita Garibaldi, one of the greatest unsung heroines in history, comes to passionate life in Diana Giovinazzo's searing debut novel,
The Woman in Red
. Brazilian revolutionary, gaucho, and partner-in-arms to her husband, Giuseppe Garibaldi, Anita is a feminist icon to die for."—
Mary Sharratt, author of Ecstasy and Illuminations
"Diana Giovinazzo establishes herself as a worthy new voice in historical fiction with this irresistible tale of Anita Garibaldi: firebrand, lover, soldier, mother, revolutionary. Garibaldi isn't just fierce, she's ferocious. Her unstoppable energy propels this novel forward through tragedy and triumph, soaring all the way."
—
Greer Macallister, bestselling author of The Magician's Lie and Woman 99
"Anita Garibaldi is exactly the kind of courageous woman whose astonishing story of defiance and dedication -- to freedom and to her passions -- I've been craving. Told in her bold and unflinching voice,
The Woman in Red
by Diana Giovinazzo brings this brazen, complex woman -- and the man she fought beside -- vividly to life."—
Erin Lindsay McCabe, USA Today bestselling author of I Shall Be Near To You
"Captivating . . . Giovinazzo adds realistic details to the fast-paced narrative. The novel's focus on a strong woman who defied the odds to follow her heart will appeal to fans of historical fiction."
—
Publishers Weekly
"A great swashbuckler . . . Epic in scope, adventurous in nature, dreamily romantic, and occasionally a nail biter, this is the story of a passionate love affair, a feminist before feminism's time, history as it happened in three countries, triumph, and tragedy."
—
New York Journal of Books
"Giovinazzo gives the reader a fascinating look at 19th-century South America and its culture, where machismo prohibited women from any meaningful role or status in society. It's Anita Garibaldi's fight against those prohibitions that make her such an inspirational character . . .
The Woman in Red
is a finely crafted, exciting page-turner and is highly recommended for readers interested in learning about strong and empowered women."—
Historical Novel Society
"Giovinazzo deftly brings Anita and her story to life in this sweeping saga . . . Entertaining and educational, as well as a wonderful way for readers to meet a lesser-known historical figure whose own life story could very well help influence their own by encouraging others to dig deep within to find courage and bravery."
—
Ovunque Siamo
Grand Central Publishing, 9781538717417, 384pp.
Publication Date: August 4, 2020
About the Author
Diana Giovinazzo is the co-creator of Wine, Women and Words, a weekly literary podcast featuring interviews with au­thors over a glass of wine. Diana is active within her local literary community as the president of the Los Angeles chapter of the Women's National Book Association. The Woman in Red is her debut novel. For more information, please visit her website: https://dianagiovinazzo.com/.
1. In your opinion, what draws Anita to Giuseppe and vice versa? Is it love at first sight? Do you believe there needs to be a reason for people to fall in love, or do you believe some people can have an immediately strong connection?
2. From a young age, Anita made clear that she had ambitions beyond the role of wife and mother. After training horses with her father, she became a nurse and, eventually, a soldier. How did her upbringing prepare her to take on the role of a revolutionary?
3. Before Anita meets Giuseppe, she is characterized as a troublemaker, as crazy, as a manipulator. After she meets him, she is characterized as a brave revolutionary, as a radical thinker, as a brilliant strategist. Her intelligence and take-charge attitude are only praised after she is partnered with a great man. How does this shift in attitude exemplify women's continued struggle to be taken seriously in the absence of a male counterpart?
4. In chapter 16, Anita, pregnant with her first child, says, "Suddenly my life wasn't my own;a future person was sucking away everything that I was." Many women today struggle with the notion of losing themselves after a child is born. How did motherhood alter Anita's sense of identity?
5. In chapter 24, Giuseppe begs Rossettito abandon his printing press as they travel to São Gabriel: "Telling our story doesn't have to be your job…Brother,let someone else carry that burden. Just for a little while." Discuss the symbolism of the printing press in this scene: its weight, its importance, and its capacity to establish a personal and political legacy. Do you believe Rossetti was right to prioritize the preservation of history and personal glory over his own life?
6. In chapter 25, Anzani describes Montevideo as the "Florence of the Americas," where expats from different cities in Italy came together and called themselves Italians. How else did Montevideo foreshadow a future, united Italy?
7. In chapter 27, Anita says, "In the parlor the men talked, but it was in the kitchen that the important decisions were made." Do you agree or disagree with this statement? How is this idea illustrated in South America? In Italy?
8. What do you think of Giuseppe's decision to leave Anita a note explaining his departure to Corrientes in chapter 32? Why do you think he didn't tell her he was leaving in person?
9. Why do you think Anita dreams of her father before Rosita dies? Before her own death? Is his presence an omen of death, ora subconscious attempt at comfort?
10. Discuss the importance of the color red in the novel, from its association with professional butchers to Anita's adoption of the color for her personal wardrobe.
11. What do you think of Anita's decision to shear off her hair and join Giuseppe on his campaign to Rome, leaving her children in the care of their grandmother? What decision would you have made?
12. Birds play a heavily symbolic role in the novel. In the prologue, Anita worries black vultures are a sign of her husband's passing; in chapter 2, a bird on a branch foreshadows Anita's father's death; in chapter 53, a little black bird personifies Destiny. In Brazil,the Bororo people believe the human soul manifests in the shape of a bird upon a person's passing. In Uruguay,the tero bird is a "common literary symbol for the audacious, bold, attentive, and vivacious nature of the gaucho." Discuss the disparity between these two interpretations and how they relate to Anita at various points in the novel. When the little black bird appeared in the final chapter of the novel, did you realize Anita was about to die?
13. Anita was born on August 30, 1821. She died at the age of twenty-seven on August 4, 1849. Though she lived more than 170 years ago, her story resonates with contemporary readers, as women continue to campaign for equality today all around the world. How does Anita's life represent women's ongoing struggle to be recognized for their work and overall contributions to society?