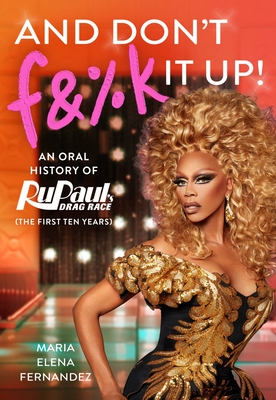 And Don't F&%k It Up
An Oral History of RuPaul's Drag Race (The First Ten Years)
Hardcover

* Individual store prices may vary.
Description
A definitive history and celebration of the groundbreaking show RuPaul's Drag Race in its first decade, from a Burbank basement set all the way to the Emmy's, and every weave in-between,  as told by its stars, producers and fans.

Told over the first ten years, And Don't F&%k It Up tells a cultural history through the stories of the people who lived it: the creators of the show, the contestants, the crew, the judges, and even some key (famous) fans. It begins with RuPaul's decades-long friendship and business relationship with World of Wonder Productions, the entertainment company that helped launch him into superstardom, and later talked him into giving a drag reality show a chance. From there, it follows the growth and evolution of the show—and its queens—through a decade of gag-worthy seasons, serving up all kinds of behind-the-scenes realness. With a history as shady and funny as it is dramatic and inspiring, And Don't F&%k It Up shows how RuPaul's Drag Race is a mirror reflecting the cultural and political mores of our time. Its meteoric rise to becoming a once-in-a-generation success story is explored here as never before, in intimate, exuberant, unfettered detail.
 
Praise For And Don't F&%k It Up: An Oral History of RuPaul's Drag Race (The First Ten Years)…
"10s 10s 10s across the board."—Andy Cohen

"¡Amo este libro! It's dripping with cuchi, uniqueness, nerve, and talent!"—Charo

"Everything you wanted to know (and more) about the twisted minds behind the best mothertucking show on earth."—Simon Doonan, author of Drag: The Complete Story

"The queens of Drag Race spill the tea on what it took to turn this queer little show into a global phenomenon."—Loni Love

"Mama Ru proves once again that reading is what??? FUNDAMENTAL."—Big Freedia

"Finally, the Drag Race book that sets the record straight. I mean queer."—Alec Mapa

"Everyone who works in my stores spends all day talking about Drag Race. Now they can spend all day talking about And Don't F&%k It Up. I can't wait!"—Jonathan Adler

"If you want to know how drag changed the world, and might just save it, read this book."—Ronan Farrow, New York Times bestselling author of Catch and Kill
Grand Central Publishing, 9781538717660, 464pp.
Publication Date: June 6, 2023
About the Author
Maria Elena Fernandez is an award-winning journalist who covered Drag Race since before the world was introduced to the term "halleloo." Fernandez was the first mainstream journalist to be allowed on set to write about the show for the Los Angeles Times after being dazzled by RuPaul and the first season queens at a promotional event before the show's launch. Fernandez covered entertainment for the Los Angeles Times, Vulture, The Daily Beast, Newsweek and NBC News for 15 years.