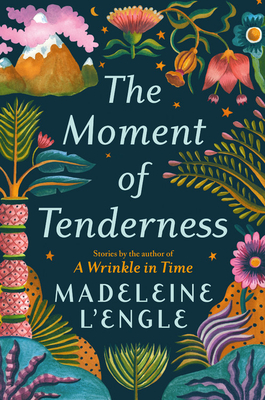 The Moment of Tenderness
Hardcover

* Individual store prices may vary.
Other Editions of This Title:
Digital Audiobook (4/20/2020)
Paperback (4/20/2021)
Compact Disc (4/21/2020)
Description
Discover stories that inspire a "great capacity for wonder" (New York Times) from the beloved author of A Wrinkle in Time: named one of the spring's most anticipated books (Good Housekeeping), this collection transcends generational divides to highlight the power of hope and joy.

This powerful collection of short stories traces an emotional arc inspired by Madeleine L'Engle's early life and career, from her lonely childhood in New York to her life as a mother in small-town Connecticut. In a selection of eighteen stories discovered by one of L'Engle's granddaughters, we see how L'Engle's personal experiences and abiding faith informed the creation of her many cherished works.

Some of these stories have never been published; others were refashioned into scenes for her novels and memoirs. Almost all were written in the 1940s and '50s, from Madeleine's college years until just before the publication of A Wrinkle in Time.

From realism to science-fiction to fantasy, there is something for everyone in this magical collection.

MOST ANTICIPATED by The Millions *Time * Salon *The Lily * BookRiot * PopSugar * Gizmodo * Bustle * Tor * SheReads * Parade * The Christian Science Monitor
Praise For The Moment of Tenderness…
"[These stories] appear to the reader like stars . . . The Moment of Tenderness reflects not only L'Engle's growth as a writer but her search for her own personal philosophy, one that ultimately recognized opportunity and authenticity in nonconformity . . . L'Engle shared with her readers her great capacity for wonder, and her refreshingly earnest desire to tunnel deep inside the human heart and expose its power to generate and regenerate hope and love—even in the face of eviscerating darkness."—New York Times

"Unique and powerful . . . these stories are lovely in their own right. There is beauty in their simplicity and intrigue in the depth of the characters' pain."—Associated Press

"Likable, unassuming pieces . . . [hope] animates even the most bittersweet stories."—Wall Street Journal

"Gemlike . . . A luminous collection that mines the mundane as cannily as the fantastic and extraterrestrial."—Kirkus, Starred Review

"An elegant curio-cabinet of a collection."—Vanity Fair

"L'Engle was a true New Yorker in the best sense: intrepid, dynamic, daring, resolute . . . If you're a close L'Engle follower—and there are legions of them—you'll appreciate this chance to chart the evolution of a fine thinker/writer, chronologically, story by story. Otherwise, you can admire each story separately, in its own right."—Providence Journal

"Whether you're a L'Engle super-fan or simply a lover of science fiction and fantasy, there's something here for any reader."—Esquire

"L'Engle's stories are softly tragic with sparkles of hope and a sincere faith, told in a simple and earnest voice . . . [these stories] will spark the interest of the approximately one bazillion fans of L'Engle's A Wrinkle in Time."—Booklist

"Few fantasy writers had as indelible an influence on a certain tribe of bookish, introverted, curious children during the 20th century as the great L'Engle . . . for fans of L'Engle, [these stories] allow us a window into her process of writing fantasy, which she called the 'one and only language in the world that cuts across all barriers of time, place, race, and culture.'"
—The Millions

"Unswerving throughout is L'Engle's mastery of mood-setting language and her depiction of the complexity of human relationships. Voiklis's illuminating introduction places many of the stories in the context of L'Engle's life and points out those that were reworked and integrated into her later novels. The book will obviously attract L'Engle aficionados, but the thoughtful selection and organization recommends the volume to anyone curious about a writer's evolution."—Publishers Weekly

"This collection is a must for fans of the iconic author."—PopSugar

"A wonderful collection. The stories, even those that represent L'Engle's early career, are finely crafted and have a modernist attention to the complexity and allusive nature of human feelings coupled with a postmodern detachment. Many are sorrowful and aching, even tragic. All are provocative and remarkable."—Bookreporter

"Cause for celebration . . . The engaging stories in The Moment of Tenderness collectively offer a different, fuller view of this talented master."—BookPage

"These stories . . . embody the same soft-footed,
timeless elegance of L'Engle's emotional and aesthetic sensibility . . . [L'Engle]
cherishes the emotional joys and traumas of everyday existence."— Shelf Awareness

"Each of [L'Engle's] many books and stories is worth reading because she put so much heart, soul, adventure, misadventure, faith, fear, imagination, and wisdom into them. Her granddaughter's contributions -- the biography Becoming Madeleine and now this collection -- round out the portrait of a great writer who will prove to be historically important in literature."—New York Journal of Books

"Fans of L'Engle's work will adore this collection . . . Her prose is brilliant—straightforward, emotive, and lovely to the ear when read aloud."—The Rumpus

"Echoes the brilliant storytelling Madeleine L'Engle brought us with A Wrinkle in Time, touching on friendship, faith, and hope."—Serendipity magazine

[The Moment of Tenderness] attests to [L'Engle's] courage as a writer and a person . . . a revelation."—The Christian Science Monitor

"A timely dose of human connection . . . beautifully approachable . . . The Moment of Tenderness immerses you in the realities of many different lives, with their sorrows and pains, pleasures and joys."—Hypable

"Positively joyful."—Tor

"The Moment of Tenderness, a collection of 18 of these works, proves L'Engle's craftmanship as a writer. Her detailed images, knowledge of human nature, and ability to imbue each character with an intimate and vulnerable honesty combine to make each story shine. These are not happy little stories. Yet amid the darkness of human loneliness and even cruelty, they gleam with the promise of the divine presence."—U.S. Catholic magazine

"Enchanting."—The ARTery

"Offers a new perspective on the author as a Southern expatriate—and a visionary of hope amidst the darkness . . . reminds us we [need] moments of tenderness like those in this volume."—Fare Forward
Grand Central Publishing, 9781538717820, 304pp.
Publication Date: April 21, 2020
About the Author
Madeleine L'Engle published her first novel, The Small Rain, in 1945. Four years later, she published her first children's book, And Both Were Young. Her Newbery-award winning novel A Wrinkle in Time, which was published in 1962, dealt with themes she toyed with in her diaries for years, from personal shortcomings to Einstein's Theory of Relativity. L'Engle wrote fiction and nonfiction for adults, as well as poetry. She died in 2007.