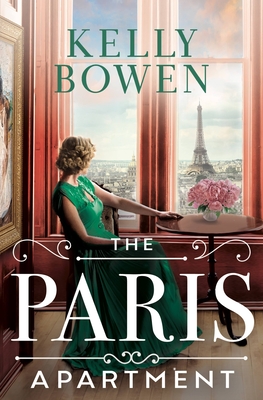 The Paris Apartment
Paperback

* Individual store prices may vary.
Other Editions of This Title:
Digital Audiobook (5/31/2021)
Compact Disc (6/8/2021)
Description
This heart-wrenching novel about family and war unearths generations of secrets and sacrifices—perfect for fans of The Paris Orphan and The Lost Girls of Paris.

2017, London: When Aurelia Leclaire inherits an opulent Paris apartment, she is shocked to discover her grandmother's hidden secrets—including a treasure trove of famous art and couture gowns. One obscure painting leads her to Gabriel Seymour, a highly respected art restorer with his own mysterious past. Together they attempt to uncover the truths concealed within the apartment's walls.
 
Paris, 1942: The Germans may occupy the City of Lights, but glamorous Estelle Allard flourishes in a world separate from the hardships of war. Yet when the Nazis come for her friends, Estelle doesn't hesitate to help those she holds dear, no matter the cost. As she works against the forces intent on destroying her loved ones, she can't know that her actions will have ramifications for generations to come.

Set seventy-five years apart, against a perilous and a prosperous Paris, both Estelle and Lia must summon hidden courage as they navigate the dangers of a changing world, altering history—and their family's futures—forever.
Praise For The Paris Apartment…
"Bowen draws on the lives of Nancy Wake and Josephine Baker and the 2018 discovery of a Paris apartment untouched since WWII in this rich historical tale. The stories unearthed in the apartment pique from the first page in this magnetic novel full of tragedy and rich characters."
 —Publishers Weekly

"Kelly Bowen creates an evocative and thrilling glimpse into the lives of two heroic women risking everything in occupied Paris during World War II.   A dual-timeline connects past and present; a painting of a house, two matching pendants, and old photographs of a woman act as pivotal clues that bridge between the two, and fine works of art and a heartfelt love story between two people who were destined to meet brings the story full circle.   A lovely aha moment at the end and the reminder to make one's life count will make this book and its characters linger long after the last page is turned.  A beautiful novel for fans of The Nightingale."
 —Karen White, New York Times bestselling author of The Last Night in London

"'A beautifully written cast of characters unraveling the mysteries and humanity of war. Enticing."
 —Mandy Robotham, USA Today bestselling author

"Kelly Bowen's The Paris Apartment is a compelling story of two women navigating the dangers of occupied Paris with bravery and compassion. Bowen paints a richly layered picture of glamour, intrigue, and sacrifice that is at once heartbreaking and hopeful."
 —Julia Kelly, international bestselling author of The Light Over London

"A breathtaking, page-turning WWII tale of courage, espionage, and true love. Kelly Bowen's engaging characters will take you on an unforgettable journey of adventure and discovery. You won't want to put the book down for even a moment!"
—Genevieve Graham, international bestselling author of Letters Across the Sea

"A moving story of danger and intrigue, love and loss, set against the glamour of the Paris Ritz. Like the artworks so beautifully portrayed in this novel, The Paris Apartment is a treasure."—Christine Wells, author of Sisters of the Resistance

"Kelly Bowen has crafted a story of deep humanity and redemption, demonstrating the stunning beauty that can emerge from the darkest places. A true work of art."
 —Erika Robuck, bestselling author of The Invisible Woman

"An intriguing mix of high art and espionage, THE PARIS APARTMENT is a thrilling read from beginning to end!"
 —Celia Rees, author of Miss Grahams' Cold War Cookbook

"Expertly weaving together history, suspense, and mystery, Bowen has produced a novel that's both exciting and profound, driven by compelling characters and stunning twists. A page-turner from start to finish."
 —Imogen Kealey, author of Liberation

"Bowen has done a marvelous thing with this novel. Not only has she created a well written, taut thriller, but she has shone the spotlight on the many women who worked behind the scenes to turn the tide in favor of the Allies. We probably will never really know their names, but we can be thankful that they once existed and made the ultimate sacrifice."—WomanAroundTown.com
Forever, 9781538718155, 416pp.
Publication Date: April 20, 2021
About the Author
Award-winning author Kelly Bowen grew up in Manitoba, Canada, and attended the University of Manitoba, where she earned Bachelor of Science and Master of Science degrees in veterinary studies. She worked as a research scientist before realizing her dream to be a writer of historical fiction. Currently, Kelly lives in Winnipeg with her husband and two sons. Learn more:www.kellybowen.netTwitter @kellybowen09Facebook.com/AuthorKellyBowen