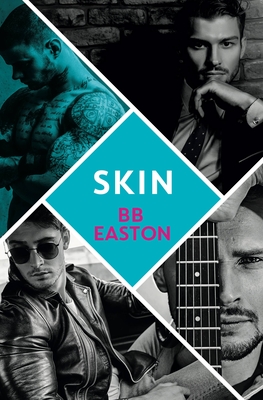 Skin (44 Chapters #1)
Paperback

* Individual store prices may vary.
Other Editions of This Title:
Paperback (2/2/2017)
Description
With Netflix adapting BB's 44 CHAPTERS ABOUT 4 MEN into a new series, you're going to want the full story behind her roller-coaster love story with the ultimate bad boy.
Because BB Easton had so much fun writing her bestselling, award-winning memoir, she decided to give each of her four men his own steamy standalone. SKIN is Knight's book -- a gritty, taboo, forbidden love story overflowing with '90s nostalgia, dark humor, and heart-wrenching teenage angst. It is based on a true story.

In 1997, Ronald "Knight" McKnight was the meanest, most misunderstood boy at Peach State High School. . . perhaps on the entire planet. Knight hated everyone, except for me, BB -- the perky, quirky punk chick with the locker next to his.

I, on the other hand, liked everybody. . . except for Knight. I was scared to death of him, actually. All I wanted was to marry Prince Eric-lookalike and king of the Peach State High punk scene Lance Hightower and have a million of his babies.

Unfortunately for me, Knight was even better at getting his way than I was, and once he got under my skin, my life would never be the same.
"Skin is a sophisticated, edgy, authentic, five-star read, and I HIGHLY recommend it." --L.J. Shen, USA Today Bestselling Author
Praise For Skin (44 Chapters #1)…
"Oh. My. God. I can't stop laughing. Or reading. WHAT IS HAPPENING?"
—
Colleen Hoover, #1 New York Times bestselling author on Sex/Life: 44 Chapters about 4 Men
"BB Easton's writing is smart, thoughtful and hilariously poetic. She inserts cringe-worthy tales with serious real-life situations in such a way that leaves you forever turning that page."
—
Inked in Chapters
"
Skin
is a sophisticated, edgy, authentic, five-star read, and I HIGHLY recommend it."—
L.J. Shen, USA Today Bestselling Author
"SKIN is not just skin deep. It's heart deep. It's soul deep. It's look-in-the-mirror-and-know-that-you-are-enough deep."
—
Mary Elizabeth, Bestselling Author
"With one book, Easton has climbed to the top of my author list."
—
Scott Hildreth, International Bestselling Author
"SKIN takes on a more intense, grittier tone than 44 Chapters without sacrificing all the laughs and quirkiness that BB does so well."
—
Charleigh Rose, Bestselling Author
It's beautifully written, and you'll experience every emotion with every person you encounter in the story."
—
KinkyGirlsBookObsessions, Book Blogger
"If you loved
44 Chapters About 4 Men,
then prepare yourself for
SKIN
. BB brought the thunder."—
Lisa Readsalot, Book Blogger
Forever, 9781538718346, 416pp.
Publication Date: June 15, 2021
About the Author
BB Easton lives in the suburbs of Atlanta, Georgia, with her long-suffering husband, Ken, and two adorable children. She recently quit her job as a school psychologist to write books about her punk rock past and deviant sexual history full-time. Ken is suuuper excited about that.
BB's memoir, 44 Chapters About 4 Men, and the spin-off 44 Chapters novels are the inspiration for Sex/Life, a steamy, female-centered dramedy series coming soon to Netflix.
The Rain Trilogy, an epic apocalyptic love story, is her first work of fiction. Or at least, that's what she thought when she wrote it in 2019. Then 2020 hit and all of her dystopian plot points started coming true. If you need her, she'll be busy writing a feel-good utopian rom-com to see if that fixes everything.
You can find her procrastinating in all the following places:
Email: authorbbeaston@gmail.com
Website: www.authorbbeaston.com
Facebook: www.facebook.com/bbeaston
Instagram: www.instagram.com/author.bb.easton
Twitter: www.twitter.com/bb_easton
Pinterest: www.pinterest.com/artbyeaston
Goodreads: https://goo.gl/4hiwiR
BookBub: https://www.bookbub.com/authors/bb-easton
Spotify: https://open.spotify.com/user/bbeaston
Etsy: www.etsy.com/shop/artbyeaston
#TeamBB Facebook group: www.facebook.com/groups/BBEaston
And giving away a free e-book from one of her author friends each month in her newsletter: www.authorbbeaston.com/subscribe