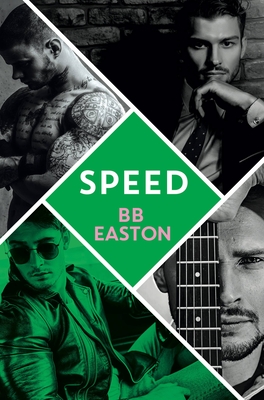 Speed (44 Chapters #2)
Paperback

* Individual store prices may vary.
Other Editions of This Title:
Paperback (9/7/2017)
Description
With Netflix adapting BB's 44 CHAPTERS ABOUT 4 MEN into a new series, you're going to want the full story behind her outrageous adventures.
Because BB Easton had so much fun writing her bestselling, award-winning memoir, she decided to give each of her four men his own steamy standalone. SPEED is Harley's book -- a gritty, '90s-era love triangle overflowing with dark humor, intense heat, and tangible teen angst. It is based on a true story.
Ronald "Knight" McKnight was Obsessive. Possessive. Downright psychopathic. But that didn't stop me from falling in love with him. . . or falling apart when he joined the Marines. When he left, Knight told me to "find someone better," but I didn't.

I found Harley instead.

Harley James was a fun, flirty, tattooed mechanic whose face was as angelic as his secrets were sinful. He taught me how to live again. How to laugh again. But would he teach me how to love again?

Over Knight's dead body.
"Raw, scorching, and totally addictive, Speed is an adrenaline-fueled ride that captures the dangerous heights and consuming depths of teenage love." -- Jamie Shaw, author of Mayhem
Praise For Speed (44 Chapters #2)…
"Oh. My. God. I can't stop laughing. Or reading. WHAT IS HAPPENING?"
—
Colleen Hoover, #1 New York Times bestselling author on 44 Chapters about 4 Men
"BB Easton's writing is smart, thoughtful and hilariously poetic. She inserts cringe-worthy tales with serious real-life situations in such a way that leaves you forever turning that page."
—
Inked in Chapters
"SPEED, as with all of BB's work, takes us on a journey at the cusp of womanhood. BB lets us peer under the band-aid of adolescence, self-absorbed, self-destructive, and oftentimes startlingly selfless. We watch the wound bleed in fascination until she tears it off completely and reveals the transformation, scars, dents, (piercings) and plenty of wizened girl power underneath."—
Mara White, HuffPost and NY Daily News
Forever, 9781538718384, 416pp.
Publication Date: June 29, 2021
About the Author
BB Easton lives in the suburbs of Atlanta, Georgia, with her long-suffering husband, Ken, and two adorable children. She recently quit her job as a school psychologist to write books about her punk rock past and deviant sexual history full-time. Ken is suuuper excited about that.
BB's memoir, 44 Chapters About 4 Men, and the spin-off 44 Chapters novels are the inspiration for Sex/Life, a steamy, female-centered dramedy series coming soon to Netflix.
The Rain Trilogy, an epic apocalyptic love story, is her first work of fiction. Or at least, that's what she thought when she wrote it in 2019. Then 2020 hit and all of her dystopian plot points started coming true. If you need her, she'll be busy writing a feel-good utopian rom-com to see if that fixes everything.
You can find her procrastinating in all the following places:
Email: authorbbeaston@gmail.com
Website: www.authorbbeaston.com
Facebook: www.facebook.com/bbeaston
Instagram: www.instagram.com/author.bb.easton
Twitter: www.twitter.com/bb_easton
Pinterest: www.pinterest.com/artbyeaston
Goodreads: https://goo.gl/4hiwiR
BookBub: https://www.bookbub.com/authors/bb-easton
Spotify: https://open.spotify.com/user/bbeaston
Etsy: www.etsy.com/shop/artbyeaston
#TeamBB Facebook group: www.facebook.com/groups/BBEaston
And giving away a free e-book from one of her author friends each month in her newsletter: www.authorbbeaston.com/subscribe