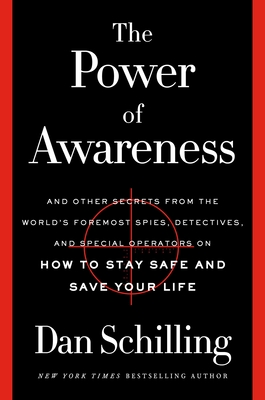 The Power of Awareness
And Other Secrets from the World's Foremost Spies, Detectives, and Special Operators on How to Stay Safe and Save Your Life
Hardcover

* Individual store prices may vary.
Other Editions of This Title:
Digital Audiobook (5/31/2021)
Compact Disc (6/1/2021)
Description
A spy is suddenly aware she's being stalked through the streets of an overseas city. A special ops soldier intuitively recognizes something's "off" during a high-risk mission. In these life-threatening situations experts know exactly how to use their senses and what actions to take. At the intersection of The Gift of Fear and Make Your Bed, The Power of Awareness will make sure you will, too. In his empowering book, Dan Schilling shares how to identify and avoid threats using situational awareness and intuition just like the pros. Told with wit and wisdom, this compelling guide uses harrowing stories from Dan's special operations career and those of other experts to outline six easily implemented rules you can apply anywhere to improve your personal safety. It incorporates exercises to understand how situational awareness works in real life, how to better listen to your intuition, and when confronted by a criminal how to make a plan and take action with confidence—so you can escape the threat before it's too late. He also includes tools on how to secure your home or hotel room, use public transportation, plan international travel, and reduce your criminal target appeal and exposure, in addition to how to escape an active shooter situation. As a bonus, you'll even learn how to survive a date without getting murdered. By the last page you'll know that your own Power of Awareness can save your life.
Praise For The Power of Awareness: And Other Secrets from the World's Foremost Spies, Detectives, and Special Operators on How to Stay Safe and Save Your Life…
"Schilling delivers the definitive guide to staying alive and safe no matter where in the world you find yourself, from the grocery store to the battlefield. Through storytelling based on real-world experiences, many his own, he reminds us that with a proper mindset, we all have the ability to shape our environment."—Grant Mendenhall, Special Agent, FBI (retired), Former Assistant Director in charge of the FBI's Counterterrorism Division

"Some books are very entertaining. Some are very educational. The Power of Awareness is both, with a good helping of inspiration thrown in. Readers will find that Schilling's philosophy and methodical approach have applications far beyond the extreme situations we all want to avoid. His techniques make "awareness" a way of dealing with life, whether extreme or not."—Jim DeFelice, #1 New York Times bestselling author

"For special operations or clandestine officers, tactics, technique and procedures (TTPs) are a way of life and make the difference between life and serious injury. Dan Schilling, in an exceedingly entertaining and enlightening descriptive manner, provides rules and tools to make the everyday person's life easier and safer. His stories, anecdotes, and lessons learned are as much fun to read as they are informative."—Lt General Kurt A. Cichowski, USAF (Ret.), former CIA Associate Director and Vice Commander Air Force Special Operations Command

"This book is for all who wish to be prepared for anything. Dan provides information and exercises designed to build operator-level awareness and response. Whether for refreshing prior skills or learning to better protect self and loved ones, this book will save lives!"—Randy Watt, Former Green Beret and SWAT Officer

"Essential reading for anyone looking to navigate an uncertain world more safely, from dating to travel to your own home. Dan Schilling's advice will teach readers how to stay aware, act in a crisis, and most importantly how to stay safe."—Evy Poumpouras, former Secret Service Agent and author of Becoming Bulletproof

"In this gripping guide, Schilling (Alone at Dawn), an Air Force special operations and combat control veteran, advises on how to stay safe in the face of danger... Real-life anecdotes, such as Schilling's actions during the Battle of Mogadishu or the story of a CIA agent being stalking by Kuwaiti spies, break up chapters and add a sense of tension. Readers will gain essential insight on self-protection from Schilling's eye-opening manual."—Publishers Weekly, starred review

"An empowering guide with the potential to transform readers' approach to personal safety."—Booklist

"Schilling helps readers become their own best bodyguards and prepare themselves before something happens."—Library Journal, starred review
Grand Central Publishing, 9781538718674, 272pp.
Publication Date: June 1, 2021
About the Author
In his thirty years in special operations Dan Schilling conducted combat and clandestine missions around the world, founded and then commanded two special operations squadrons—the second one of America's most clandestine special mission units—and worked alongside the CIA, FBI, and NSA to defeat terrorists as well as biological and nuclear weapons proliferation. An adrenaline enthusiast, Schilling is a professional demonstration skydiver, holds the Guinness World Record for most BASE jumps in twenty-four hours, and is a mountain speedwing pilot.  For more information on his projects, visit him at DanSchillingBooks.com.