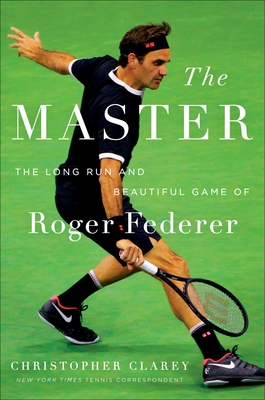 The Master
The Long Run and Beautiful Game of Roger Federer
Hardcover

* Individual store prices may vary.
Other Editions of This Title:
Digital Audiobook (8/23/2021)
Paperback (7/5/2022)
Compact Disc (8/24/2021)
Description
AN INSTANT NEW YORK TIMES BESTSELLER! 

A major biography of the greatest men's tennis player of the modern era.
There have been other biographies of Roger Federer, but never one with this kind of access to the man himself, his support team, and the most prominent figures in the game, including such rivals as Rafael Nadal, Novak Djokovic, and Andy Roddick. In The Master, New York Times correspondent Christopher Clarey sits down with Federer and those closest to him to tell the story of the greatest player in men's tennis.

Roger Federer has often made it look astonishingly easy through the decades: carving backhands, gliding to forehands, leaping for overheads and, in his most gravity-defying act, remaining high on a pedestal in a world of sports rightfully flooded with cynicism. But his path from temperamental, bleach-blond teenager with dubious style sense to one of the greatest, most self-possessed and elegant of competitors has been a long-running act of will, not destiny. He not only had a great gift. He had grit.

Christopher Clarey, one of the top international sportswriters working today, has covered Federer since the beginning of his professional career. He was in Paris on the Suzanne Lenglen Court for Federer's first Grand Slam match and has interviewed him exclusively more than any other journalist since his rise to prominence. Here, Clarey focuses on the pivotal people, places, and moments in Federer's long and rich career: reporting from South Africa, South America, the Middle East, four Grand Slam tournaments, and Federer's native Switzerland. It has been a journey like no other player's, rife with victories and a few crushing defeats, one that has redefined enduring excellence and made Federer a sentimental favorite worldwide.

The Master tells the story of Federer's life and career on both an intimate and grand scale, in a way no one else could possibly do.
Praise For The Master: The Long Run and Beautiful Game of Roger Federer…
"Roger Federer is the most beautiful and balletic player I've ever seen. In this entertaining and deeply researched book, Christopher Clarey, the top tennis writer of today, tells the story of how Federer became one of our sport's greatest champions and how much harder it was than he made it look."—
Billie Jean King, former World No. 1 professional tennis player
"Style married with substance. Heft married with levity. Polished, detail-oriented, executed with grace. Roger Federer gets the biography he deserves."—
L. Jon Wertheim, Sports Illustrated executive editor and bestselling author of THIS IS YOUR BRAIN ON SPORTS
"Roger Federer plays tennis like Michelangelo painted: every stroke is perfection, the end result a masterpiece. Christopher Clarey captured just that."—
Martina Navratilova, former World No. 1 professional tennis player
"Christopher Clarey is a rare combination: the consummate insider with an objective lens. With THE MASTER, he delivers a deep and enlightening view of Roger's life and career that sports fans will be parsing for decades."—
Jim Courier, former world No. 1 and four-time Grand Slam singles champion
"An iconic master in his own field, Christopher Clarey is the perfect writer to wrap up the gift that is Roger Federer's career. You're not going to get a better look into his life, personality, and character. Christopher got close but not too close to Roger to compromise his perspective on this great champion. He shows sides and layers of Roger through conversations and stories that we have never been privy to before. I have deep respect for Christopher's fair and thoughtful journalism."—
Chris Evert, American former world No. 1 tennis player and winner of 18 Grand Slam singles championships
"Christopher Clarey follows Roger Federer from insecure teen to mature champion who takes his family with him on the road and loves visiting new places. It takes a master to know a master. Among the many highlights of this valuable biography: informed glimpses of other great stars in Federer's long career."—
George Vecsey, New York Times sports columnist and bestselling author of MARTINA and LORETTA LYNN: COAL MINER'S DAUGHTER
"Perhaps no athletic figure of the past half century has so thoroughly captured the imagination of the worldwide public quite like Roger Federer. In this compelling book, the cerebral Christopher Clarey takes us behind the scenes to examine Federer across the board and up close as a man of deep sensitivity, a champion of singular creativity and a transcendent sports figure."—
Steve Flink, leading tennis historian and member of the International Tennis Hall of Fame, author of THE GREATEST TENNIS MATCH OF ALL TIME
"With the same elegance and excellence that defined Roger Federer's great career, Christopher Clarey has chronicled the making of a legend. THE MASTER is a truly enjoyable deep dive into the qualities that set Federer apart from the rest."—
Mike Tirico, host of NBC Sports
"Christopher Clarey, the longtime tennis correspondent for the 
New York Times
 and 
International Herald Tribune
, has crafted a treat not just for Roger Federer fans, but for tennis aficionados who revel in behind-the-scenes details of life on the tour, strategy on the court and the evolution of a tennis star. From his various conversations with and about Federer over more than 20 years covering him, Clarey zeroes in on the formative places, people and matches in Federer's journey to the top. Through his coaches, his friends, his rivals, his idols, and Federer himself, THE MASTER travels the world creating time capsules for a golden era of tennis."—
Naila-Jean Meyers, former New York Times tennis editor
"Magnificent. THE MASTER is awash in absorbing stories, history and assimilation, and the kind of insider insights that only Chris Clarey could provide. His words are as elegant and graceful as his subject."—
Mary Carillo, Olympic correspondent and tennis analyst, NBC Sports
"THE MASTER is a book we've been waiting for, for years. Clarey on Federer. A perfect match. The writer who for decades has documented Federer's artistry with lyricism and insightfulness owed us this definitive portrait. But it is far from an anthology of Clarey's greatest Federer hits. It instead delights with new revelations and fresh thoughts, from a writer uniquely qualified to deliver them. THE MASTER demonstrates clearly the mastery of both subject and author."—
Jeremy Schaap, host of E:60 and Outside the Lines
"A deeply reported and researched portrait of one of the greatest tennis players ever...A fine work of sports journalism, well worthy of its estimable subject."—
Kirkus
"Few writers could capture the evolution of Roger Federer's ascent to the top of his sport from his start at age eight with more clarity and vision than New York Times tennis correspondent Clarey...A must-read for devoted tennis fans and everyone interested in athletes and the sports world."
—
Booklist (starred review)
"
New York Times
tennis correspondent Christopher Clarey makes the most of more than 20 years of journalistic access to Federer across six continents—experiences that include waiting for him in a chauffeured car outside a packed stadium match near Buenos Aires, tagging along on an early-morning private flight out of the California desert, brunching with the star before panoramic views of Lake Zurich."—
The Washington Post
"Deeply reported and crisply written…it's a treat for those who love the sport and the men and women who play it at its demanding best."—
Wall Street Journal
Twelve, 9781538719268, 432pp.
Publication Date: August 24, 2021
About the Author
Christopher Clarey is the tennis correspondent for the New York Times and has covered international sports for nearly thirty years for the Times and International Herald Tribune, where he was chief sports correspondent and a longtime columnist.