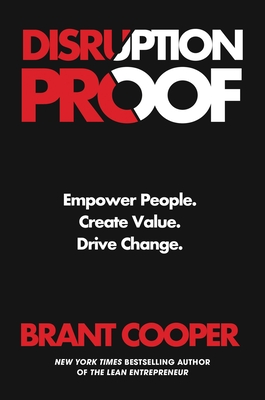 Disruption Proof
Empower People, Create Value, Drive Change
Hardcover

* Individual store prices may vary.
Other Editions of This Title:
Digital Audiobook (11/8/2021)
Compact Disc (11/9/2021)
Description
CEO and founder of Moves the Needle and New York Times bestselling author of The Lean Entrepreneur Brant Cooper teaches leaders how to ensure their organizations are resilient, agile, and dynamic enough to endure long-term, weathering the storms of disruption and uncertainty.
One thing in life is certain: change is constant. Thanks to the rapid pace of technological innovation in the digital age—and further accelerated by the global COVID-19 pandemic—massive structural change is happening on a greater scale than ever before. Faced with unprecedented complexity and uncertainty, most business leaders struggle to see the way forward. Company organization, systems, and management are still largely based on what was most effective in the Industrial Age.
Disruption Proof
offers a new approach that addresses our current reality. 
Through powerful case studies of notable corporations like Intuit, 3M, Cargill, and more, Cooper demonstrates how, with the right mindset and practical strategies, companies that focus on creating value for customers can thrive in the 21st century.
Disruption Proof
provides readers with detailed methods for progressing through four stages of implementation to embrace a new way of working company-wide, including how to:
develop an understanding of customers and colleagues that lead to insights (empathy)
run tests to challenge assumptions (exploration)
leverage data and insights to breakthrough biases (evidence)
balance operational execution with learning (equilibrium)
manage behavior to match corporate values (ethics)
By adopting these 5Es, company leaders can empower employees to become creative problem solvers, ensuring their company's ability to navigate moments of crisis and find transformative opportunities. Cooper explains how reimagining work at every level is the key to organic and sustainable growth, and guides leaders to create lasting value in the world. With Cooper's action-oriented advice and tools, anyone can help steer their company towards durable success.
Praise For Disruption Proof: Empower People, Create Value, Drive Change…
"Leading organizations with empathy and ethics takes real courage. Disruption Proof shows you how to do it."—David Cohen, founder and chairman of Techstars

"Brant shows us how embracing disruption is not only good for entrepreneurs and private companies, but it's also important for society at large if we are to equitably tackle our 21st Century challenges."—Hugh Molotsi, CEO and Founder, Ujama Inc.

"Established businesses are challenged to succeed with the rapid change in technology, customer preferences and business in digital age.  Disruption Proof can help today's business leaders navigate through and succeed."—Daniel Kaiser, SVP Innovation, CUNA Mutual Group, Senior Lecturer, UW-Madison, School of Business

"Helping teams at all levels manage the increasing pace of change is putting pressure on leaders across all industries. Disruption Proof provides an actionable framework (5E's) that can help everyone from the CEO to first time managers."—Paul Estes, author of Gig Mindset, formerly held leadership roles at enterprise organizations such as Dell, Amazon, Microsoft and startup ventures such as Mural

"Disruption Proof links the essential elements of the entrepreneur's toolkit to organizations at scale, which need these tools to drive change, to survive and to thrive. It is a valuable handbook for leaders seeking to navigate the future of work."—Dan Murray, President, Bivvy Insurance

"Customers expect products to constantly improve even after they purchase them. Incumbent market leaders in every industry either deliver on this expectation or die. Disruption Proof is the guide you need to transform your business to win in this new reality."—Scott Case, Chair, Network for Good

"Brant has an amazing style of translating 'boring' business facts into action-oriented and inspirational messages."—Payam Djavdan, Partner and Associate Director, Agile at Scale, Boston Consulting Group

"Leave it to a San Diego native to say: 'A wave is coming. Here's how to surf.'"—Kent Beck, Fellow, Gusto

"I'm so excited that readers will have the opportunity to lean into Disruption Proof. Leading a company that has a social impact mission and is rooted in empathy is challenging, but this book really gives us insights and tactics that help get it done."—Marcus Bullock, CEO/Founder, Flikshop

"Brant brilliantly addresses both the art and the science of corporate innovation in Disruption Proof. This is a must-read for corporate future-proofing."—Ivan-Rapin Smith, Managing Director, Watsco Ventures

"An important book about building business and community, and how leadership can make business a powerful medium for addressing many societal inequities while still making money and creating jobs."—Bob Buderi, Founder of Xconomy and author of the forthcoming book Where Futures Converge
Grand Central Publishing, 9781538720196, 352pp.
Publication Date: November 9, 2021
About the Author
Brant Cooper is CEO and Founder of Moves the Needle, a global consultancy specializing in innovation for Fortune 50 companies and entrepreneurs, and the New York Times bestselling author of The Lean Entrepreneur. With over two decades of expertise helping companies bring innovative products to market, he blends agile, design thinking, and lean methodologies to ignite entrepreneurial action within large organizations. Brant is a sought-after keynote speaker, startup mentor, and trusted executive advisor. He speaks around the world on organizational agility, digital transformation, and how to refocus missions on creating value. Learn more at BrantCooper.com.