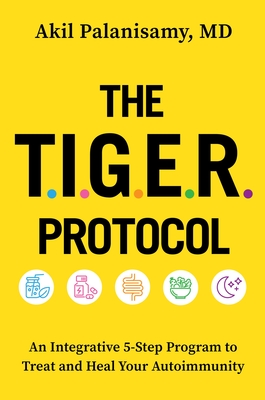 The TIGER Protocol
An Integrative, 5-Step Program to Treat and Heal Your Autoimmunity
Hardcover

* Individual store prices may vary.
Description
Treat and heal your autoimmunity and live the life you want through this food-based, Ayurveda-inspired protocol. 

In the United States, autoimmune diseases affects an estimated 25 million people--it is the fastest growing category of disease. That's a staggering number of individuals struggling with conditions like type 1 diabetes, celiac disease, lupus, and other issues like allergies and eczema.  So many autoimmune patients feel confused, hopeless, or uninformed about their diagnosis and face poor quality of life despite conventional therapy; it can take three years and visits to four different health professionals to receive a formal, correct diagnosis of autoimmunity --even though that is the best time for early intervention in which holistic treatments can lead to major benefits.  
After working with these patients in his two decades of practice, Harvard-trained Dr. Akil Palanisamy was inspired to develop The T.I.G.E.R. Protocol, an integrative treatment approach combining his work as a functional medicine practitioner with his training in Ayurvedic medicine, the traditional medicine of India. He has since used this simple protocol to successfully treat thousands of patients.

Through this 2-phase protocol, you will:
Address Toxins
Heal Infections
Improve Your Gut Health 
Learn to Eat Right
Consciously Rest and Rebalance

Managed In a two-phase elimination and reintroduction diet, the protocol works to address the root cause of your autoimmunity instead of treating just the symptoms. Find healing and freedom by following this simple food-based protocol.
Praise For The TIGER Protocol: An Integrative, 5-Step Program to Treat and Heal Your Autoimmunity…
"A holistic and clinically proven approach to treating autoimmune disease that can help millions of people afflicted by this epidemic."—Dr. William Li, MD, New York Times bestselling author of Eat to Beat Disease and Eat to Beat Your Diet

"Dr. Akil Palanisamy combines his extensive clinical experience with leading-edge research to create a detailed roadmap to health for those with autoimmune or inflammatory conditions. Filled with the most up-to-date, evidence-based information on the microbiome, environmental toxins, and the mind-body connection, The T.I.G.E.R. Protocol is a must-read for anyone serious about optimizing their immune health and vitality."—Dr. Andrew Weil, world-renowned integrative medicine physician

"So often we are led to believe  we can rid ourselves of our common ailments with the latest breakthroughs in pharmaceutical science. As so many have experienced, this approach generally disappoints. Dr. Akil provides us with foundational information, empowering the reader with a straightforward action plan to reverse disease and pave the way for optimal health. We need to take his teachings seriously as they are a gift."—David Perlmutter, MD, New York Times bestselling author of Grain Brain and Drop Acid

"What if there is a much better way to get to the root of autoimmune disease so that you can either halt it in its tracks or reverse it?  Dr. Akil Palanisamy provides a revolutionary integrative medicine approach that does just that!"—Victoria Maizes, MD, Executive Director, Andrew Weil Center for Integrative Medicine at the University of Arizona

"Autoimmune disease has increased in prevalence over the past 40 years and is now poised to be one of the leading causes of both shortened lifespan and quality of life. Unfortunately, the accepted strategies to manage these conditions are not infrequently as concerning as the disease itself. Fortunately, Dr. Akil has developed an approach to address the many factors contributing to autoimmunity. If you or someone you love suffers from autoimmunity, this book revolutionizes our understanding of autoimmune diseases." —Robb Wolf, New York Times bestselling author of Wired to Eat

"1 in 6 Americans now suffer from autoimmunity, and conventional treatment is focused on suppressing symptoms with drugs. The T.I.G.E.R. Protocol offers a natural and effective "root cause" approach to healing autoimmune disease based on Dr. Akil's unique blend of functional medicine, ayurveda, and ancestral nutrition. I recommend this book to anyone seeking a more holistic approach to autoimmune disease."—Chris Kresser, New York Times bestselling author of The Paleo Cure

"In The T.I.G.E.R. Protocol, Dr. Palanisamy has created a fantastic, groundbreaking guidebook for treating autoimmune disease that empowers readers with science-backed actionable tools to optimize their health and well-being."—Michelle Tam, New York Times bestselling cookbook author and creator of Nom Nom Paleo

"The Tiger Protocol is an invaluable evidence-based guide to the current state of knowledge about autoimmune disease and is designed to empower patients in living well with chronic illness. It is also a state-of-the-art resource for professionals who want the newest perspective on autoimmune disease and wish to effectively improve the quality of life of their patients. I strongly recommend keeping this unique clinical resource close at hand on your bookshelf."—Rachel Remen, M.D., New York Times best-selling author of Kitchen Table Wisdom
Balance, 9781538726068, 400pp.
Publication Date: May 9, 2023
About the Author
Dr. Akil Palanisamy, MD, is an integrative medicine physician and author of The Paleovedic Diet.  He blends his Western medical training with functional medicine and Ayurveda, the traditional medicine of India.

"Dr. Akil," as he is known, studied biochemistry at Harvard University, received his medical degree from the University of California, San Francisco, and completed his residency at Stanford University. He also completed a fellowship in integrative medicine with Dr. Andrew Weil at the University of Arizona, and is certified by the Center for Mind-Body Medicine at Georgetown University. He practices integrative medicine in the San Francisco Bay area, and travels worldwide to speak.