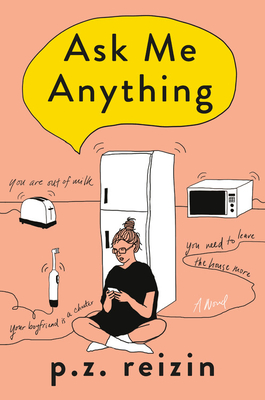 Ask Me Anything
Hardcover

* Individual store prices may vary.
Description
From the author of Happiness for Humans, a romantic comedy for the technology age: a young woman unlucky in love gets a little help from the most unlikely of places to find her perfect match.
Wouldn't it be great if everyone had a team of smart machines to handle all the messy emotional stuff? When you consider how many quadrillions of hours of human drudgery have been eradicated by the invention of only the dishwasher, the washing machine and (ahem) the fridge freezer, is it absurd to imagine a scenario in which household appliances bring the same -- yes! -- genius to bear on the slow-motion car crash that is (for many young people) the romantic side of their lives? If they are content to leave their dishes, dirty linen and food refrigeration to smart technology, how much of a stretch is it for machines to take care of their emotional needs?
Chloe and Daisy Parsloe only have each other, since Daisy's dad left for sunnier climes and a new family. But now Daisy is in her early thirties, she's not doing brilliantly at work, her love life is haphazard (to put it kindly) and her elderly mum seems to be losing her mind . . . Daisy is also the proud possessor of a smart fridge, which keeps trying to help Daisy sort out her life by sending her texts to tell her that she's out of milk, or that the pasta salad has gone out of date. What Daisy doesn't know is that her smart fridge, like her smart toothbrush, microwave, tv, fitness tracker, and laptop all want to help her smooth out her chaotic existence -- and help her mother, Mrs. Parsloe, stay independently living at home. Operation Daisy is about to make both the Parsloes' lives much, much happier.
Praise For Ask Me Anything…
"Reizin follows
Happiness for Humans
with a madly inventive and marvelously imaginative rom-com in which he brilliantly blends elements of
2001: A Space Odyssey
with
Bridget Jones's Diary
into something so deliciously unique and dryly humorous it will have readers begging for more, while looking at their smart home appliances in a whole new way."—
BooklistPRAISE FOR P.Z. REIZIN'S HAPPINESS FOR HUMANS
"Reizin's novel is a fun and fast-paced romp through the tangible and electronic realms. Told in alternating perspectives between the human lovers and coded machines, this tale makes a classic point: life is beautiful because it's too short to miss. Even technophobic readers will be drawn to each zany character's universal search for happiness."—
Booklist
"One of the most unique love stories ever written, this novel blends the ethereal concepts of true love and fate with a thoughtful examination of the risks and worries of artificial intelligence. The alternating perspectives between the humans and AIs keep readers captivated while providing a fulfilling dose of quirky humor and "will they or won't they" tension."
—
RT Book Reviews
"Irreverent, zany, and hilarious, this debut romantic comedy for the digital age is a pure delight, sure to appeal to fans of Tom Perrotta, Nick Hornby, and Stephen Fry."
—
Library Journal (starred review)
"A frothy rom-com in literary form...a broad and madcap love story...charming."
—
Kirkus Reviews
"A sort of Shakespearean comedy of errors but instead of the gods there are rogue AIs seeking to meddle in the affairs of humans. Great fun."
—
The Booksellers (UK)
"Part love story, part meditation on the role of AI in our society,
Happiness for Humans
by P.Z. Reizin is a fun, light romance that also happens to ask some important questions about what it means to be human-and what it means to be in love."—
Bookpage
"
Happiness for Humans
...is great fun...a charmingly screwball love story."—
Seattle Times
"This funny, madcap romp for the digital-age, featuring believably flawed characters (not all human), deserves to be a hit... like David Nicholls'
One Day
or Graeme Simsion's
The Rosie Project
, it should appeal to male and female readers."—
Sunday Times
Grand Central Publishing, 9781538726983, 368pp.
Publication Date: June 2, 2020
About the Author
P.Z. Reizin worked as a journalist and producer in newspapers, radio, and television before turning to writing. He has been involved in several Internet startup ventures, none of which went on to trouble Google, Twitter, or Facebook. He is married with a daughter and lives in London.