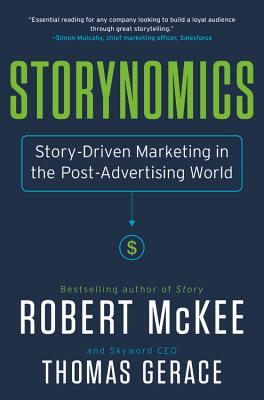 Storynomics (Hardcover)
Story-Driven Marketing in the Post-Advertising World
Twelve, 9781538727935, 272pp.
Publication Date: March 20, 2018
Other Editions of This Title:
Digital Audiobook (1/2/2006)
Digital Audiobook (3/19/2018)
Hardcover (11/25/1997)
Paperback (11/1/2005)
* Individual store prices may vary.
Description
Based on the hottest, most in-demand seminar offered by the legendary story master Robert McKee -- STORYNOMICS translates the lessons of storytelling in business into economic and leadership success.
Robert McKee's popular writing workshops have earned him an international reputation. The list of alumni with Academy Awards and Emmy Awards runs off the page. The cornerstone of his program is his singular book, Story, which has defined how we talk about the art of story creation.
Now in STORYNOMICS, McKee partners with digital marketing expert and Skyword CEO Tom Gerace to map a path for brands seeking to navigate the rapid decline of interrupt advertising. After successfully guiding organizations as diverse as Samsung, Marriott International, Philips, Microsoft, Nike, IBM, and Siemens to transform their marketing from an ad-centric to story-centric approach, McKee and Gerace now bring this knowledge to business leaders and entrepreneurs alike.
Drawing from dozens of story-driven strategies and case studies taken from leading B2B and B2C brands, STORYNOMICS demonstrates how original storytelling delivers results that surpass traditional advertising. How will brands and their customers connect in the future? STORYNOMICS provides the answer.
About the Author
Robert McKee, a Fulbright Scholar, member of the Hollywood Hall of Fame, and winner of a Moving Image Book Award, is the world's most sought-after lecturer on the art of story. His articles and interviews have appeared in many newspapers and magazines around the globe, including The New Yorker, Vanity Fair, New York Times, Washington Post, Figaro, Sueddeutsche Zeitung, Harvard Business Review, Wall Street Journal, Guardian, and Fast Company. He has also been featured on CBS and CNN.

Thomas Gerace is the founder and CEO of Skyword, a leading content marketing platform and services company serving brands including Samsung, Philips, Mastercard, IBM, GE, Colgate, and HP. A pioneer in digital marketing, Gerace has helped hundreds of marketing teams to adapt and thrive amid constant disruptive changes in technology and consumer behavior over two decades.
Praise For Storynomics: Story-Driven Marketing in the Post-Advertising World…



PRAISE FOR STORYNOMICS AND ROBERT MCKEE

"Essential reading for any company looking to build a loyal audience through great storytelling."— Simon Mulcahy, Chief Marketing Officer, Salesforce




"Storynomics should be required training for every marketer -- regardless of level or industry. It is truly a special treat to learn from these masters of storytelling."— David Beebe, Emmy-winning Producer, Brand Storyteller; Former VP, Global Creative and Content Marketing & Founder of Marriott Content Studio, Marriott International




"We have worked with Robert McKee for over five years and his Storynomics techniques have opened the door to our innovation and growth. A must read!"— Robert J. DeKoch, President & COO, The BOLDT Company




"If you want a clear and concise look at how modern brands are connecting with their customers today, Storynomics is it."— Brian Moody, Executive Editor, Autotrader




"Some look at recent upheavals in the marketing landscape and see shrinking opportunities, rising costs, and distracted, indifferent audiences. Storynomics is written for another group: those who see in these changes an opportunity to tell a deeper, more personal story to their audiences."— Pat Partridge, Chief Marketing Officer, Western Governors University




"McKee is the world's best-known and most respected lecturer of Storytelling Arts."— Wall Street Journal




"McKee and Gerace are storytelling whizzes who give great advice and great supporting stories. Their tips and recommendations are simple to follow with a step-by-step methodology."— Eduardo Arteaga, AVP of Digital Marketing, US Bancorp




"Between ad blockers, skippable commercials, and everything in between, marketers need to evolve to market in a form that is accepted by potential customers. Storynomics provides a blueprint marketing strategy that helps you connect to your audience in a meaningful way."— Jessica Snavely, Director Performance Marketing, Automattic