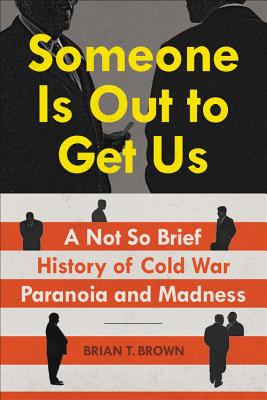 Someone Is Out to Get Us
A Not So Brief History of Cold War Paranoia and Madness
Hardcover

* Individual store prices may vary.
Other Editions of This Title:
Digital Audiobook (11/4/2019)
Description
From UFOs to Dr. Strangelove, LSD experiments to Richard Nixon, author Brian Brown investigates the paranoid, panicked history of the Cold War.

In Someone Is Out to Get Us, Brian T. Brown explores the delusions, absurdities, and best-kept secrets of the Cold War, during which the United States fought an enemy of its own making for over forty years -- and nearly scared itself to death in the process. The nation chose to fear a chimera, a rotting communist empire that couldn't even feed itself, only for it to be revealed that what lay behind the Iron Curtain was only a sad Potemkin village.

In fact, one of the greatest threats to our national security may have been our closest ally. The most effective spy cell the Soviets ever had was made up of aristocratic Englishmen schooled at Cambridge. Establishing a communist peril but lacking proof, J. Edgar Hoover became our Big Brother, and Joseph McCarthy went hunting for witches. Richard Nixon stepped into the spotlight as an opportunistic, ruthless Cold Warrior; his criminal cover-up during a dark presidency was exposed by a Deep Throat in a parking garage.

Someone Is Out to Get Us is the true and complete account of a long-misunderstood period of history during which lies, conspiracies, and paranoia led Americans into a state of madness and misunderstanding, too distracted by fictions to realize that the real enemy was looking back at them in the mirror the whole time.
Praise For Someone Is Out to Get Us: A Not So Brief History of Cold War Paranoia and Madness…
"[A] vivid revisionist history of the Cold War, redefining the period from the end of WWII to the fall of the Berlin Wall as a 'compendium of misconceptions, fallacies, frauds, comedies, tragedies, lies, and deceits.' Arguing that the Soviet Union was much weaker than the American public was led to believe, Brown details how the Cold War distorted U.S. politics."—Publishers Weekly

"Brown is the perfect tour-guide into one of the darkest corners of the American political soul. SOMEONE IS OUT TO GET US is a sweeping examination of a time much like ours, when paranoia replaced good judgement. Spoiler alert: the nation survives, which gives us hope for today."—Joe Ferullo, contributing columnist, The Hill

"An alternative title for this irreverent romp of a read might be Everything You Wanted to Know About the Cold War (But Were Afraid to Ask), as Brian Brown takes us on a wild ride through a time in American life when public enemy number one was an ethereal political concept that drove everything from policy to popular culture. In an era in which Americans should be (and are) afraid of some very real things, whether the integrity of our elections, global climate change, or the twisted powers of social media, this book enters the dialogue by chronicling the mayhem and misery of a time when fear overwhelmed our ability to see anything for what it really was. Brown reminds us that throughout those four decades, America's greatest enemy was the one it created in its own paranoid collective mind, a lesson that should not be lost on us today."—Amy Bass, author of One Goal

"How did the Cold War become so intense? Someone Is Out to Get Us offers a wildly entertaining answer. It draws sharp insight from a cascade of eye-popping stories, improbable characters, and covert antics that brought the world to the brink of nuclear conflict."—Stephen Kinzer, bestselling author of The Brothers: John Foster Dulles, Allen Dulles, and Their Secret World War

"Brown provides us with a witty and fast-paced look at the Cold War, Soviet espionage and covert mischief, and how these impacted and helped shape the course of American pop culture for more than three decades."—Bill Yenne, historian and author of Secret Weapons of the Cold War, B-52 Stratofortress, and Area 51 Black Jets

"Brian Brown's Someone Is Out to Get Us goes beyond the drug experiments in an investigation of the myriad ways we lost our collective mind in paranoid conspiracy theories, from UFOs to Communists witch-hunts, while opportunists like Hoover's FBI filled the void of rationality."—The Amazon Book Review

"Readers who love Cold War-era U.S. history will glom onto Brown's book, even if they come away agreeing with the old Pogo comic strip: 'We have met the enemy, and he is us.'"—Booklist

"Brown delivers a tantalizing, stranger-than-fiction collection guaranteed to entertain."—Library Journal
Twelve, 9781538728031, 512pp.
Publication Date: November 5, 2019
About the Author
Brian T. Brown is the author of Ring Force (Rodale, 2012) and TV: A Novel(Crown, 2001). He is also a journalist, a fifteen-time Emmy winner, and the cowriter and director of The Last Gold, a 2016 feature-length documentary. His work has appeared on CBS, NBC, ABC, FOX, PBS, TBS, ESPN, NBCSN, HBO, and the Discovery Channel. As a writer and producer for twelve Olympic broadcasts, he has been attached to some of the most-watched shows in American TV history. Since 2017, he has served as an adjunct professor at Fordham University. Brown's professional career began in newspapers, at the New York Times and the San Diego Union.