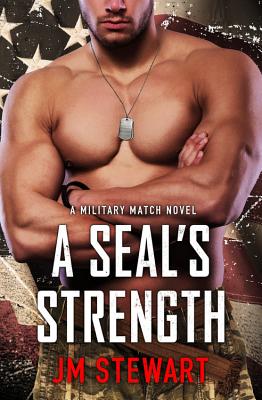 A SEAL's Strength (Military Match #2) (Paperback)
Forever Yours, 9781538728857, 240pp.
Publication Date: October 3, 2017
* Individual store prices may vary.
Description
A sizzling new series about three friends looking for love-and the sexy SEALs who are ready to fulfill their craziest fantasies. This second chance was worth the wait . . . As a SEAL, Gabriel Donovan did the toughest jobs imaginable without blinking an eye. But three years after his wife's death, the idea of dating still makes him sick to his stomach. His daughter desperately needs a mother, though, and there's nothing Gabe won't do for his little girl. Stephanie Mason doesn't run from anything. Not even coming face to face with the "one that got away" on a blind date. Steph's body vividly remembers every single thing about Gabe and while some things have changed, the way he makes her feel sure as hell hasn't. Gabe and Steph know that love comes with risks, but if they're brave enough, this second chance might just bring them the love of a lifetime.
About the Author
J.M. Stewart is a coffee and chocolate addict who lives in the Pacific Northwest with her husband, two sons and two very spoiled dogs. She's a hopeless romantic who believes everybody should have their happily ever after and has been devouring romance novels for as long as she can remember. Writing them has become her obsession.

Learn more at:
AuthorJMStewart.com
Facebook.com/AuthorJMStewart
Twitter: @JMStewartWriter
Praise For A SEAL's Strength (Military Match #2)…
"A tale of enduing love!...The trysts between Cassie and Ty are red- hot and explosive, but they are always crackling with sexual tension because of the deep emotional bond they have."—FreshFiction on Claiming the Billionaire

"Timely and filled with hot, sexual chemistry...For readers who want a happy ever after, Stewart delivers."—Library Journal on Claiming the Billionaire

"There is a wonderful sensuality in BARGAINING FOR THE BILLIONAIRE for the reader to get deliciously lost in. The scenes of sizzling passion pack extra intensity because of the depth of the feelings Maddie and Grayson have for each other and the history that they share. Grayson makes a determined and caring suitor."—FreshFiction.com on Bargaining for the Billionaire

"Top pick! 5 stars! While this story is steamy, it's also filled with vulnerable moments and angst, that make this book hard to put down...For those who enjoy a great second chance love story, this needs to be your next read!"—HarlequinJunkie.com on Bargaining for the Billionaire

"There is so much raw emotion and a delicious sense of longing...Winning the Billionaire has a winning combination of love, lust, and great storytelling."—FreshFiction.com on Winning the Billionaire

"What starts out as a strictly physical bit of great erotica morphs into something much more as the emotional intimacy between Hannah and Cade grows...Bidding on the Billionaire is an exceptionally sensual romance with emotional punch, and characters you care about."
—FreshFiction.com on Bidding on the Billionaire