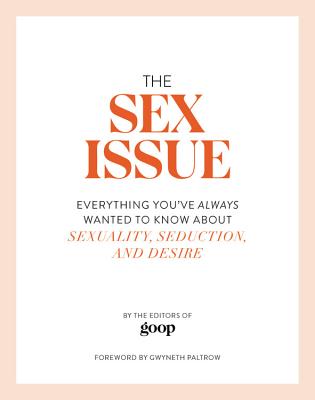 The Sex Issue
Everything You've Always Wanted to Know about Sexuality, Seduction, and Desire
Hardcover

* Individual store prices may vary.
Description
A conversation-sparking book that explores the big questions of sexuality, seduction & sex.

The Sex Issue is an informative, revelatory read that gets at everything we've always wondered about sex and relationships. GOOP editors introduce the experts they rely on, and dive into Q&A's on the ins and outs of sexual health, pleasure, and ways to evolve the conversations we have with ourselves, our partners, and each other.
Part 1, Seduction: Mines the deeper layers of seduction-with suggestions for assessing attraction, reigniting the flame once it's gone out, and navigating dating, unconventional relationship scenarios, the sex toy aisle, and more.
Part 2, Sexuality: Different takes on what sexuality means, looks, and feels like today, and options for tapping into sexual power-including a chapter on strengthening libido and tantric practices to up sexual energy.
Part 3: Doing It: Antidotes to bedroom boredom, the psychology behind oral sex, how to figure out and pursue what you want-and play out fantasies that may seem beyond reach.
Part 4, Orgasm: A closer look at enduring sex myths, with expert advice on closing the orgasm gap, doing away with the pressure to perform, and the benefits of self-pleasure.
Part 5, Sex Ed: Covers the essentials (like clean lube and condoms), hormone health, and how to talk to your partner when something is up-all with an eye toward pleasure (as opposed to just avoiding calamity).
Throughout the book you'll find goopasutra-style takes on the reality of experiences ranging from plain vanilla to menage a trois, plus personal anecdotes from the GOOP team.
Praise For The Sex Issue: Everything You've Always Wanted to Know about Sexuality, Seduction, and Desire…
"[A] fun and informative compilation of sex advice from the editors of Gwyneth Paltrow's lifestyle blog, Goop. The book makes strides towards inclusivity, with advice for people in same-sex and heterosexual relationships, as well as information on polyamorous relationships . . . Goop staffers share their personal experiences throughout, lending the book the feeling of a non-judgmental group of friends offering advice over a bottle of wine. Enjoyable to browse as well as to refer back to for more serious contemplation, this is a kinkier version of Our Bodies, Ourselves for wellness seekers."
—Publishers Weekly

Grand Central Life & Style, 9781538729441, 288pp.
Publication Date: May 1, 2018
About the Author
Launched in the fall of 2008 out of Gwyneth Paltrow's kitchen, GOOP has grown from a weekly email newsletter into a modern lifestyle brand and an indispensable resource for the very best, unbiased experiences, recipes, products, and advice. Led by Paltrow, GOOP includes a collective of editors who collaborate with a varied group of experts to curate an open-minded, curious approach to health-centric living.
or
Not Currently Available for Direct Purchase