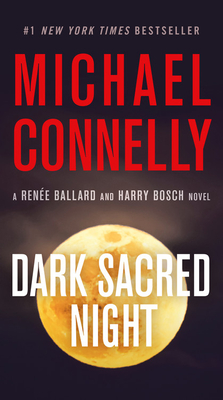 Dark Sacred Night (A Renée Ballard and Harry Bosch Novel #21)
Mass Market

* Individual store prices may vary.
Other Editions of This Title:
Digital Audiobook (10/29/2018)
Digital Audiobook (10/29/2018)
Paperback (4/30/2019)
CD-Audio (11/6/2018)
Hardcover, Large Print (10/30/2018)
Hardcover (10/30/2018)
Description
Harry Bosch teams up with LAPD Detective Renée Ballard to face the unsolved murder of a runaway, and the fight to bring a killer to justice.
Detective Renée Ballard is working the night beat -- known in LAPD slang as "the late show" -- and returns to Hollywood Station in the early hours to find a stranger rifling through old file cabinets. The intruder is retired detective Harry Bosch, working a cold case that has gotten under his skin.
Ballard can't let him go through department records, but when he leaves, she looks into the case herself and feels a deep tug of empathy and anger. She has never been the kind of cop who leaves the job behind at the end of her shift -- and she wants in.
The murder, unsolved, was of fifteen-year-old Daisy Clayton, a runaway on the streets of Hollywood who was brutally killed, her body left in a dumpster like so much trash. Now Ballard joins forces with Bosch to find out what happened to Daisy, and to finally bring her killer to justice. Along the way, the two detectives forge a fragile trust, but this new partnership is put to the test when the case takes an unexpected and dangerous turn.
Dark Sacred Night for the first time brings together these two powerhouse detectives in a riveting story that unfolds with furious momentum. And it shows once more why "there's no doubt Connelly is a master of crime fiction" (Associated Press).
Praise For Dark Sacred Night (A Renée Ballard and Harry Bosch Novel #21)…
"Dark Sacred Night is one of the best and most affecting Bosch novels since Mr. Connelly began the saga in 1992, underscoring the growing and unsettling ambiguity surrounding its central character."—Tom Nolan, Wall Street Journal

"Spectacular...Dark Sacred Night is ingenious, frantically suspenseful, and very, very, bleak."—Maureen Corrigan, Washington Post

"Michael Connelly is superhuman...His hallmark has been his precise, faultless plotting...Connelly has always been especially good when it comes to truly creepy killers-he was once a crime reporter-and his denouement here is thrilling."—Charles Finch, USA Today

"It was only last year that Connelly introduced Ballard, a fierce and fascinating new protagonist who instantly emerged as a reader favorite. Bosch, meanwhile, is a grizzled veteran by now; Dark Sacred Night marks the 21st novel to center on him. But fans always finish eager to come back for more."—David Canfield, Entertainment Weekly

"LAPD Det. Renée Ballard, first seen in 2017's The Late Show, makes a welcome return in this outstanding, complex police procedural...Bosch and Ballard, both outsiders with complicated pasts, form a perfect partnership in this high spot of Edgar-winner Connelly's long and distinguished career."—Publishers Weekly (starred review)

"Det. Renée Ballard is a formidable character, an insightful and tenacious investigator with an unusual background and a sturdy personality to carry a series...Connelly has achieved success as one of the top mystery writers by continuing to keep his storytelling fresh. In The Late Show, he delivers an exciting police procedural with a unique character."—Oline Cogdill, South Florida Sun-Sentinel

"Michael Connelly has earned his place in the pantheon of great crime fiction writers by creating characters people care about and are eager to come back to. In Dark Sacred Night, he brings together two of his best...Here's hoping we don't have to wait long for another Ballard and Bosch novel."—Paul Saltzman, Chicago Sun-Times

"This one needs no introduction...Expect all the dark, brooding LA neo-noir you've come to appreciate from Connelly's superlative procedurals."—CrimeReads

"Superb...Once again, Connelly delivers an exciting police procedural, only this time with two unique characters."—Oline Cogdill, South Florida Sun-Sentinel

"Harry Bosch has had plenty of partners, but he might have met his match...Both face complicated challenges to their personal ethics, challenges born not out of greed or fear but of their burning desire to make things right. Through it all, they challenge each other. Ballard brings a fresh perspective, and Bosch brings all the things so many readers love about him."—Colette Bancroft, Tampa Bay Times

"Of the myriad things Connelly does superbly as a crime writer, perhaps one of the least heralded is his ability to bring characters together from different series...A guaranteed chart-topper."—Bill Ott, Booklist (starred review)

PRAISE FOR THE LATE SHOW:
"The Late Show introduces a terrific female character: Detective Renée Ballard... The pacing of Ballard's debut story is breathless... Ballard is complicated and driven enough to sustain the series Connelly doubtless has in mind for her."—Janet Maslin, New York Times

"Few writers can capture the gritty streets of L.A.--and the inner workings of the LAPD--like Connelly."—Entertainment Weekly

"The most intriguing mystery in The Late Show is Ballard herself. Connelly is too skillful to hand us her resume in one document dump; instead, he fills out her portrait with a subtle hand over the course of the novel, a little background here, a glimpse of her temperament there, the revelation of her unusual living conditions sketched in between."—Colette Bancroft, Tampa Bay Times
Vision, 9781538731765, 496pp.
Publication Date: October 8, 2019
About the Author
Michael Connelly is the author of thirty-two novels, including #1 New York Times bestsellers Dark Sacred Night, Two Kinds of Truth, and The Late Show. His books, which include the Harry Bosch series, the Lincoln Lawyer series, and the Renee Ballard series, have sold more than seventy-four million copies worldwide. Connelly is the creator and host of the Murder Book true-crime podcast and is the executive producer of the Amazon Studios original series Bosch, starring Titus Welliver. A former newspaper reporter, he has won numerous awards for his journalism and his novels. He spends his time in California and Florida.