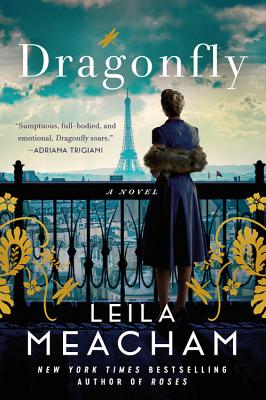 Dragonfly (Hardcover)
Grand Central Publishing, 9781538732229, 576pp.
Publication Date: July 9, 2019
* Individual store prices may vary.
Description
From the New York Times bestselling author of Roses comes a gripping new novel about five young spies embedded among the highest Nazi ranks in occupied Paris

At the height of World War II, a handful of idealistic young Americans receive a mysterious letter from the government, asking them if they are willing to fight for their country. The men and women from very different backgrounds-a Texan athlete with German roots, an upper-crust son of a French mother and a wealthy businessman, a dirt-poor Midwestern fly fisherman, an orphaned fashion designer, and a ravishingly beautiful female fencer-all answer the call of duty, but each for a secret reason of her or his own. They bond immediately, in a group code-named Dragonfly.

Thus begins a dramatic cat-and-mouse game, as the group seeks to stay under the radar until a fatal misstep leads to the capture and the firing-squad execution of one of their team. But...is everything as it seems, or is this one more elaborate act of spycraft?


About the Author
Leila Meacham is a writer and former teacher who lives in San Antonio, Texas. She is the author of the bestselling novels Roses, Tumbleweeds, Somerset, and Titans. For more information, please visit LeilaMeacham.com.
Praise For Dragonfly…
PRAISE FOR PREVIOUS LEILA MEACHAM NOVELS
"The finest historical fiction not only entertains but teaches readers something about an era not their own, and this novel offers a stellar crash course in Texas history...The novel has it all: a wide cast of characters, pitch-perfect period detail, romance, plenty of drama, and skeletons in the closet (literally). Saga fans will be swooning."
—
Booklist (starred review) (Praise for Titans)
"
Roses
heralded as the new
Gone with the Wind
."—
USA Today (Praise for Roses)
"As large, romantic, and American a tale as Texas itself."—
Booklist (praise for Roses)
"It's been almost 30 years since the heyday of giant epics...but Meacham's debut might bring them back. Readers who like an old-fashioned saga will devour this sprawling novel of passion and revenge."—
Library Journal (praise for Roses)