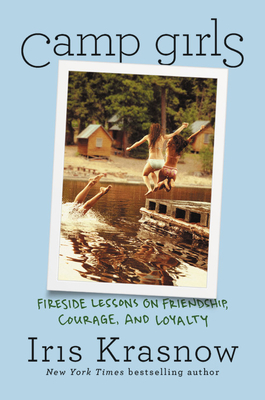 Camp Girls
Fireside Lessons on Friendship, Courage, and Loyalty
Hardcover

* Individual store prices may vary.
Other Editions of This Title:
Digital Audiobook (4/6/2020)
Description
New York Times bestselling author Iris Krasnow reflects with humor and heart on her summer camp experiences and the lessons she and her fellow campers learned there that have stayed with them throughout their lives.

Iris Krasnow was 8 years old when she first attended sleep-away camp, building lasting friendships and essential life skills amid the towering pine trees and open skies of Wisconsin. Decades later, she returned to Camp Agawak as a staff member to help resurrect Agalog, the camp's defunct magazine that she wrote for as a child. There, she revisits the activities she loved as a young girl: singing songs around a campfire, swimming in a pristine lake, sleeping under the stars—experiences that continue to fill her with wisdom and perspective.

A nostalgic, inspiring memoir with a universal message on the importance of long-term friendship for campers and non-campers alike, Camp Girls weaves between past and present, filling the page in delicious detail with cabin pranks, canoe trips in rainstorms, and the joy of finding both your independence and your interdependence in nature alongside your peers. Through rich storytelling, Iris shares her own and other campers' adventures and the lessons from childhood that can shape fulfilling and successful adulthoods. Ultimately, Iris powerfully demonstrates that camp is more than a place or a collection of activities: it's where we learn what it means to be human and what it feels like to truly belong to a family—not of blood, but of history, loyalty, and tradition.
Praise For Camp Girls: Fireside Lessons on Friendship, Courage, and Loyalty…
"A heartwarmer. A
nostalgic treat about a simpler time, it also offers a valuable message for
today."—People

"Camp Girls is one of the most compelling and thought-provoking camp memoirs I have ever read. Iris Krasnow encapsulates the transformative essence of immersive summer camp experiences and also serves as a timely call-to-action for all parents. Findings from decades of camp research suggest that summer camp is an optimal context for social-emotional learning experiences which help young people thrive in school, in 21st century workplaces and in life. Iris's masterful storytelling had me laughing and crying while powerfully illuminating the lasting impacts of positive mindsets and skills nurtured in undistracted, human-centered, and adventurous camp communities."—Tom Rosenberg, President/CEO of American CampAssociation

"Iris Krasnow brings us back to the place where memories were made, campfires were lit, songs were sung and friendships were formed. We didn't know it then, but those formative summers spent in cabins, lakes, and canoes made us into the athletes, artists, leaders, and loyal friends we are today. Reading Camp Girls is like finding that old camp photo album in your parent's basement and flipping through its pages with laughter and tears."—Betsy Fischer Martin, executive director of Women & Politics Institute at American University, former executive producer of Meet the Press, NBC News, camper at Camp Feliciana, Norwood Louisiana (1979-1983)

"A thoroughly enjoyable dip into nostalgia for the simpler times of
youth."—Publishers Weekly

"In this love letter to summer camp, bestselling memoirist Krasnow (The Secret Lives of Wives, 2011) reflects on her experiences over the years...Former campers, particularly women, will revel in the nostalgia emanating from these pages."—Booklist
Grand Central Publishing, 9781538732267, 256pp.
Publication Date: April 7, 2020
About the Author
Iris Krasnow is a New York Times bestselling author, professor, and camp counselor. During the school year, she teaches journalism and gender studies at American University and spends summers at Camp Agawak. She's written Surrendering to Motherhood; Surrendering to Marriage; I Am My Mother's Daughter; The Secret Lives of Wives; and Sex After . . . Women Share How Intimacy Changes as Life Changes. She is a regular contributor to AARP's "The Girlfriend" and the relationship sections of Huffington Post, in addition to writing for AARP Magazine and the AARP Bulletin, and giving a popular TedX Talk.