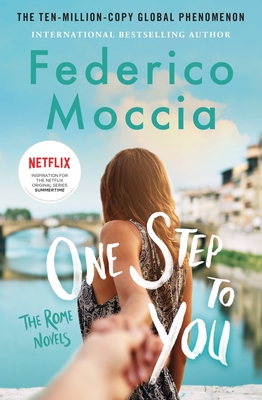 One Step to You (The Rome Novels #1)
Paperback

* Individual store prices may vary.
Other Editions of This Title:
Digital Audiobook (3/1/2021)
Compact Disc (3/2/2021)
Description
Read the inspiration for the Netflix original series Summertime, a "deep, passionate romance that transcends time and age" (Booklist). 
 
Babi and Step are the Romeo and Juliet of their time, spending the best days of their lives together in the Eternal City, but belonging to opposite worlds may eventually tear them apart.

It begins with a chance meeting at a traffic light, one that draws a young woman's attention to the stranger on a motorbike. In that one moment, the fates of Babi Gervasi and Step Mancini are altered. Babi, poised on the brink of a predictable future, will risk everything to be with Step. Step, running from his past, will find the one thing missing from his life. Sharing days on the streets of Rome and nights under a blanket of stars, they belong in each other's arms. 

Even as they fear their time together will be brief, they know their hearts will remember forever. 
 
Praise For One Step to You (The Rome Novels #1)…
"A deep, passionate romance that transcends time and age. Readers will appreciate this highly intense coming-of-age story that shows how much some are willing to risk for love. One Step to You has been aptly compared to the novels of Nicholas Sparks and John Green and will appeal to readers of those highly emotional tales."
 —Booklist, starred review

"Capture[s] the turbulent passion of teen love."
 —Publishers Weekly

"Federico Moccia is the romance king of the Mediterranean bestseller."—Woman (Spain)

"Federico
Moccia is an author who writes about love, and he wins the hearts of a broad
and diverse audience - the teenagers of today and the teenagers of yesteryear."—la Repubblica (Rome newspaper)

"Federico Moccia is a household name for millions of readers."—Revista Universitarios (Spain)

"Federico Moccia knows how to get straight to the heart of all young readers. His words always hit the right spot."—TTL (Italian newspaper)

"With his novels, the writer Federico Moccia has revolutionized young people."—Glamour

"The Roman writer has managed to connect with an audience who have become dedicated fans and who are eager to read his novels, great romances with vital teachings."—El Pais (Spain)

"His novels of young love are sold by millions around the world."—El Mundo (Spain)

"Federico Moccia has touched the romantic heart of a whole generation."—Il Giornale (Italian newspaper)

"Italian writer Federico Moccia brings the reader an updated version of the classic tale of star-crossed lovers, separated by differences in social class and learned attitudes. This tension also drives the novel's narrative, ensuring growing suspense. A tautly paced novel with intense action and unpredictable twists and turns."—5 o'Clock Books (Romanian TV show)
Grand Central Publishing, 9781538732779, 384pp.
Publication Date: March 2, 2021
About the Author
Federico Moccia is one of Italy's publishing phenomenons, and his emotional stories have been compared to the works of Nicholas Sparks and John Green. The first two Babi and Step books were blockbuster bestsellers in Italy, spending three full consecutive years on the Nielsen bestseller list. His books have been published in fifteen languages worldwide and have sold over ten million copies, and there are feature films in Italian and Spanish based on the first two books in the trilogy.

Learn more at: FedericoMoccia.es
Twitter @FedericoMoccia
Facebook.com/FedericoMocciaOfficial

Antony Shugaar is a translator and writer who lived for many years in Italy, France, and Spain. He has received two translation fellowships from the National Endowment for the Arts. He has translated close to forty books for Europa Editions and has worked for many of the most prestigious publishers, trade and academic, in the US and the UK. He has translated extensively for the New York Review of Books and has written for the New York Times, the Times of London, and many other publications.