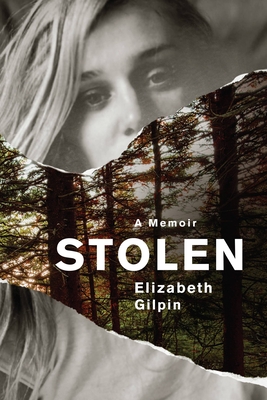 Stolen
A Memoir
Hardcover

* Individual store prices may vary.
Other Editions of This Title:
Digital Audiobook (7/19/2021)
Description
A gripping chronicle of psychological manipulation and abuse at a "therapeutic" boarding school for troubled teens, and how one young woman fought to heal in the aftermath.

At fifteen, Elizabeth Gilpin was an honor student, a state-ranked swimmer and a rising soccer star, but behind closed doors her undiagnosed depression was wreaking havoc on her life. Growing angrier by the day, she began skipping practices and drinking to excess. At a loss, her parents turned to an educational consultant who suggested Elizabeth be enrolled in a behavioral modification program. That recommendation would change her life forever.

The nightmare began when she was abducted from her bed in the middle of the night by hired professionals and dropped off deep in the woods of Appalachia. Living with no real shelter was only the beginning of her ordeal: she was strip-searched, force-fed, her name was changed to a number and every moment was a test of physical survival. 

After three brutal months, Elizabeth was transferred to a boarding school in Southern Virginia that in reality functioned more like a prison. Its curriculum revolved around a perverse form of group therapy where students were psychologically abused and humiliated. Finally, at seventeen, Elizabeth convinced them she was rehabilitated enough to "graduate" and was released.

In this eye-opening and unflinching book, Elizabeth recalls the horrors she endured, the friends she lost to suicide and addiction, and—years later—how she was finally able to pick up the pieces of her life and reclaim her identity.
Praise For Stolen: A Memoir…
"When undiagnosed depression led 15-year-old Gilpin to impulsive behavior, her parents sent her to a behavioral modification program. Abducted from her bed in the middle of the night and sent to the woods to fend for herself, Gilpin shows how not to deal with mental illness; in surviving such treatment, she also shows how strong a mentally ill person can be."—The Washington Post

"Gripping and detailed, Stolen will linger long for readers as both a survival story and powerful testament."—USA Today

"Elizabeth Gilpin's memoir broke my heart. She writes in vivid prose about how, as a fifteen year old girl--an honor student and a promising athlete-- she was kidnapped in the middle of the night by strangers, sent to live in the woods for months, and finally placed at a cruel, abusive, "therapeutic" boarding school. The story is fascinating. It is also a powerful and timely examination of the consequences of misdiagnosing and mistreating mental health and trauma."—Molly Bloom, bestselling author of Molly's Game

"By confronting the ugliness of a system that almost killed her, Gilpin emerges victorious in a narrative that radiates with humanity. This unflinching account is impossible to put down."—Publishers Weekly (starred review)

"Elizabeth Gilpin's brave and powerful memoir pulls back the curtain on shocking practices at so-called 'therapeutic' boarding schools and how the 'troubled teen' industry often exploits parents' worst fears for their children. Elizabeth lays bare her own experiences in a narrative that is equal parts riveting, harrowing, and hopeful. Stolen is a critical addition to the mental health conversation in America."
 —Van Jones, Founder of Dream Corps, CNN Host, and New York Times Bestselling Author

"Stolen is definitely eye-opening and memorable."—Booklist

"Elizabeth Gilpin gives an insight into one of the most insidious industries in Stolen, a memoir that will be deemed one of this year's most powerful & gripping books. . . Elizabeth writes with such a deft touch, allowing readers into her mind as she retells the stories and experiences in such vivid, expressive detail and frequently weaving humour throughout her prose to remind us that even in the darkest of moments, there's always some light, too."—1883 Magazine

"Stolen is an inspiring testimony of strength, truth, and courage."—Diane von Furstenberg

"This unflinching account is an eye-opener."—People

"Gilpin's narrative voice is honest and authentic. . . [she] shows her ability to condense time and still illustrate life vividly. . . [A]n engaging and cautionary story."—Southern Review of Books

"Gilpin's incredible strength and determination as she endures this unconscionable ordeal is astonishing. Somehow, she finds cause to celebrate, writing about the precious moments of teenage happiness and love she experienced despite the pain and doubt. A jaw-dropping journey of inner strength that will appeal to fans of Educated, Stolen is a memoir you won't soon forget."—Apple Books Review

"The moment I picked up this heartbreaking and eye-opening memoir, I couldn't put it down. . . Every raw emotion, every feeling of guilt and sadness and anger, I could feel. Gilpin's emotions jump off the page, weaving more depth into the story than if it had been told more like an autobiography than like a diary."—The Nerd Daily
Grand Central Publishing, 9781538735442, 336pp.
Publication Date: July 20, 2021
About the Author
Elizabeth Gilpin is an actress, writer, and producer. She starred in and produced Life Boat, a short film directed by Lorraine Nicholson which premiered at the 2017 Tribeca Film Festival. The film was nominated for the Grand Jury Prize for Live Action Short Film at AFI Fest and won the Audience Award at the Napa Valley Film Festival.  Elizabeth also starred in Endings, Inc. and Guerra. Stolen is her first book. 
 
Elizabeth currently splits her time between Los Angeles and Nashville.