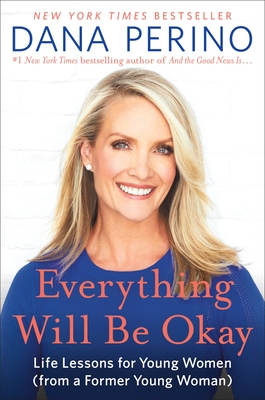 Everything Will Be Okay
Life Lessons for Young Women (from a Former Young Woman)
Hardcover

* Individual store prices may vary.
Other Editions of This Title:
Digital Audiobook (3/8/2021)
Paperback (3/15/2022)
Compact Disc (3/9/2021)
Compact Disc (3/9/2021)
Description
THE INSTANT #1 NATIONAL BESTSELLER! 

Find your inspiration in this motivational book from the bestselling author of And the Good News Is… Lessons and Advice from the Bright Side, beloved co-host of Fox News' The Five and America's Newsroom.
EVERYTHING WILL BE OKAY is a no-nonsense how-to guide to life for young women looking to reframe their thinking, to believe in themselves, to take risks, to understand their power, and to feel better overall through finding serenity and taking action.
Young women seek out advice from Dana Perino every day—at work, through friends, and on social media. The story of her own quarter-life crisis, 
And the Good News Is… Lessons and Advice from the Bright Side
, brought countless readers to her inbox looking for guidance. Through her mentorship program, "Minute Mentoring," Dana quickly realized that quarter-life crises have begun following young women well into their thirties. Many of them are distressed but conceal it with a brave face. Unfortunately, too much of that can be—and is—exhausting.
To help address these challenges, EVERYTHING WILL BE OKAY covers such topics as:
How to manage your relationships (colleagues, family, love)…

How to be your best self on the job…

How to gauge if you're on the right career path…

How to transition from junior staffer to boss lady…
How to solve the biggest problems you're facing…How to move past perceived obstacles…
For everyone from the job-seeker fresh out of college to the ambitious career woman looking to make her next big jump up the ladder, EVERYTHING WILL BE OKAY has tips, advice, and reassurance for young women everywhere. 
Praise For Everything Will Be Okay: Life Lessons for Young Women (from a Former Young Woman)…
"Oh! How I wish I'd had this book when I hit my 'quarter-life crisis' and I will buy EVERYTHING WILL BE OKAY for my daughter and all her friends who are there now. Dana's American-made wisdom is a cocktail of integrity, faith, and Western grit. She makes it look easy, but we all know it is not and here she poignantly shares what pulled her through the tough moments. Dana curls up on the couch with a cup of tea and a plan for us all, young, and 'formerly young,' consistently pulling us back around to focus on what really matters, on the way to achieving our dreams."—
Martha MacCallum
"Dana Perino has given us a clear-eyed, practical guide that even those of us who, like Dana, are 'formerly young women' will benefit from. Her self-deprecating humor shines through on these pages with advice that's tried and true, and that folks will return to time and time again. From 'stepping into the uncomfortable' to 'finding your strong voice' and learning to use it (even when you don't feel 100 percent comfortable), Dana's advice is relevant whether you are just starting out, or navigating a mid-career pivot. You'll find much to love and great tools for your personal arsenal in these pages."—
Laura Cox Kaplan, creator and host of the She Said/She Said podcast
"Young women need role models. I know that if I was in my twenties, Dana Perino would be someone I would look up to for advice on navigating my way through society, my career, and adulthood. EVERYTHING WILL BE OKAY is like having a conversation with Dana. She is witty, engaging, sophisticated, graceful and generous. Through this book, she will guide countless young women through right and wrong. By the end of it, she won't just seem like your role model, but also your friend."—
Ayaan Hirsi Ali, New York Times bestselling author of HERETIC
"The best way to reassure people is to give them good information. That's what Dana Perino does for young women in this engaging guide to life and work. From clearing your inbox to clearing your mind, if you follow the advice in this book, you'll be well on your way to much more than okay."—
Meg Jay, PhD, bestselling author of THE DEFINING DECADE
"Women helping women is the name of the game, but many women don't know where to start when looking for a mentor. If you want the tools to succeed with the no nonsense advice you need to get there, buy this book. In EVERYTHING WILL BE OKAY, Dana achieves the perfect combination of intelligence, strength and humor to help you achieve your goals and own your power. Every young woman who wants to chart their path and never look back should have this book."—
Lydia Fenet, author of THE MOST POWERFUL WOMAN IN THE ROOM IS YOU
"You know a book by a trailblazing White House press secretary will be written with unusual clarity. What might surprise you here, though, is the utter absence of spin. Dana Perino is full of relatable stories and authentic advice—reading this is the next best thing to being mentored by her."
—
Adam Grant, New York Times bestselling author of THINK AGAIN and ORIGINALS, and host of the TED podcast WorkLife
PRAISE FOR DANA PERINO:

"This book is a gem--modest and moving, clear and unpretentious. It gives the kind of practical and even ethical advice everyone starting out needs, but it's also funny and full of great stories. Dana is a true role model."—
Peggy Noonan
"Part autobiography, part memoir of a press secretary in the White House, part career and life guidance, and part appeal to civility, Dana Perino's AND THE GOOD NEWS IS... is all parts captivating."—
Donna Brazile
"A lovely memoir, both charming and wise, studded with invaluable life lessons garnered on her fascinating journey to the highest levels of media and government. A wonderful read."—
Charles Krauthammer
"A wonderful book. A book full of the love of life. And full of gratitude. This book is blessedly free of cynicism, irony, posing. It's straight. It's good. And obviously a total reflection of its author."—
Jay Nordlinger, National Review
"I am an old man and I learned how to be a better father and better boss reading [Dana's] book and a better person reading [Dana's] book. I hope everyone will go get it. And you are welcome to give it as a gift to your daughters and granddaughters and young women in your life, but you want to get a copy for yourself because it will make you better."
—
Trey Gowdy, Trey Gowdy Podcast
"Now, let's be honest: It's Dana's own fault that she had to write this book. You see, her last one, And the Good News Is . . . Lessons and Advice from the Bright Side, kicked off a very personal mentoring passion, as she communicated with countless young women in their early 20s who reached out about the almost-overwhelming distress caused by our modern times. Here's the pitch: If you have a daughter or granddaughter who is this book's sweet spot, consider getting Everything Will Be Okay. Waddleyaget? A ton of common sense and wisdom: Dana delivers with guidance on topics as managing relationships (colleagues, family, love) . . . being your best self on the job . . . gauging if the chosen career path is the right one . . . how to transition from junior staffer to Da Boss . . . solving problems and finding that oh-so-needed serenity . . . and maybe even figuring how to make your worries the stuff that actually fuels solutions."
—
Jack Fowler, National Review
"I had to remind myself this was for women. Because I'm picking up most of this stuff as it goes across lines."
—
Brian Kilmeade, Brian Kilmeade Show
"Reading your book is good I think for a man, particularly in leadership, just to have that perspective."
—
Richard Rierson, Dose of Leadership podcast
"That's one of the best openings of a book that you'll ever see. That, by the way, that advice is worth the price of the book just that advice and you got it in the first paragraph."
—
Scott Adams, Coffee with Scott Adams
"The book is absolutley incredible and I think everyone needs Dana Perino as a mentor and the book is just that in written form."
—
Caity McDuffee, Daily Caller
"I love this book. I read it. It's beautiful. The lessons you give not only apply to young women, older women, senior women, mature women, but some of you men can take a lesson or two."
—
Donna Brazille, Fox News Channel
"This book is chock full of good advice."
—
Savannah Guthrie, Today Show
"The most important takeaway about this book it's not just for women. I think it's important especially if you are in a managerial position in any vocation. A dad. You are managing young women—I think it's important to read." 
—
Mitch Roschelle, NoPo Podcast
"Perino's offering is generous, insightful, and, at just the right times, quite funny. Reading the book felt like listening to the wisdom of someone who genuinely cares about the future of young people."
—
Jade Esteban Estrada, San Antonio Sentinel
"If you're seeking career advice, perhaps listen to the woman who became a White House press secretary turned successful Fox News anchor. Dana Perino did young women everywhere a favor by penning a second book about what it takes to fulfill their career dreams."
—
Cortney O'Brien, Townhall
"While I agree that Dana's book offers terrific advice for young women, it offers pretty good tips for the rest of us too. Take it from this old guy, letting go of worry and trusting God is a good starting point for positive change in one's life."
—
John W Kennedy, Beliefnet
"Even if you don't consider yourself a 'young woman' or a 'career woman,' you'll still get a lot out of this book. There's a lot of heart and humor in this book and it's got peak Dana Perino vibes...While she's obviously had a successful career, she's not one of those people that hoards her advice for the elite or doesn't share it with those who may compete. This book is basically the mentor you've always wanted."—
Future Female Leaders
"I love your brand new book...I would argue the book is chock-full of stuff that is good for either gender. These are great life lessons. I would encourage you to get copies for every young woman in your life. I will be giving this as graduation presents to everyone. It really is the most practical guide I've seen for 20 and 30 somethings really walking through what you need to get control of your career and life and to have joy in all of it."
—
Shannon Bream
"EVERYTHING WILL BE OKAY is a book full of hope and promise and possibility. Dana Perino reminds us that the twists and turns that feel unexpected are central to the journey to becoming who you are meant to be."—
Gayle Tzemach Lemmon
"Dana Perino has taken her passion for mentoring young women and articulated it with wit and advice in her new book...so well that she has lived up to that promise to be that person the younger you needed; specifically, a young woman just entering the workforce. It is just the clear-eyed read needed for all of us as we begin to restart professional lives stalled for over a year."—
Washington Examiner
"A modern Emily Post etiquette book."—
Sonya Medina Williams
"Dana, you are amazing. I'm so glad you wrote this book for young people like myself, so we can walk on a good path and a good track. You've given us a lot of good advice."—
Sadie Robertson, 'Whoa That's Good' Podcast
"I love [EVERYTHING WILL BE OKAY]. Everybody should read it, no matter if you are a man or woman or what age you are, because it's full of great tips."—
Margaret Spellings
"Go read [EVERYTHING WILL BE OKAY]. Buy it for your daughters, granddaughters, any young women getting into the work force that you know."
—
IHeartMedia/KHOW Ross Kaminsky Show
"I...hope you will share [EVERYTHING WILL BE OKAY] with the young women in your life, so they can learn from this remarkable, successful American. Dana is the perfect example of somebody who has both a private lesson for young ladies and a public life they can learn from and the combination is just amazing. I think that she really exemplifies the potential you have if you believe in yourself and if you are willing to persevere and willing to learn and willing to recognize that sometimes you are going to fall down but you can get back up. In that sense, you have been just a remarkable role model and I'm really so glad you put that in a form that everyone can have access to."
—
Newt Gingrich, Newt's World Podcast
"There is more to Dana than just smarts and talent. She is not just a terrific role model for women and empowerment, but, and here's the kicker, huge success has never gone to Dana's head. Not for a minute.  At heart she's a kind and decent and giving person who will go out of her way to help others." 
—
John Heubusch, Reagan Library
"I recommend [EVERYTHING WILL BE OKAY] for any young woman who is starting out in their career. I also recommend it for mothers of people in that position because it gives you a language to speak to your daughters. I highly recommend this wonderful read. Dana really does curl up with you like with a cup of tea and talk through your plan. Very reassuring at any age."
—
Martha MacCallum, Reagan Library
"I love Dana's books. I love the way she writes. I love that she has optimism and knowledge and draws from her own experiences. She has a way of cutting through real problems and putting things succinctly and giving actual solutions."
—
Kennedy, Kennedy Saves The World
Twelve, 9781538737088, 240pp.
Publication Date: March 9, 2021
About the Author
Dana Perino is a Fox News anchor, co-host of The Five, an analyst for Fox News election coverage and specials, and the #1 New York Times bestselling author of And the Good News Is...Lessons and Advice from the Bright Side and Let Me Tell You About Jasper. Perino is the former White House Press Secretary for President George W. Bush, where she was the first Republican woman to hold the job. She served for over seven years in the administration, including at the Department of Justice after the terrorist attacks on 9/11. Perino grew up in the Rocky Mountain West and now lives in Manhattan with her husband, Peter McMahon, and their dog, Jasper.